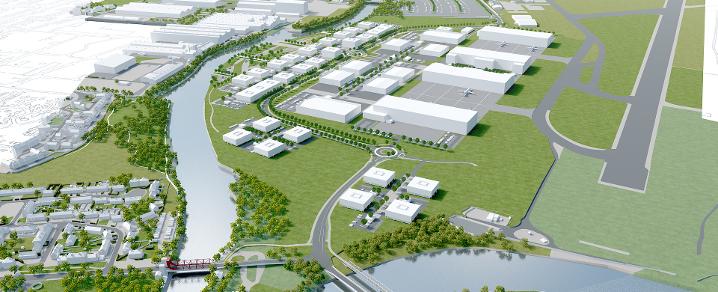 Glasgow Airport Investment Area
The Glasgow Airport Investment Area has the potential to become a powerhouse of economic growth for Renfrewshire and the Glasgow City Region; being close to the M8, and to key commercial sites with significant economic growth potential such as the Airport, Westway and Inchinnan Business Parks, Paisley and Renfrew town centres.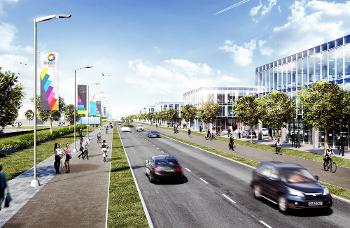 To realise that potential, this £39.1m project will deliver the realignment of Abbotsinch Road, a new bridge across the White Cart and new cycle routes; all aimed at improving connections between the Westway, Inchinnan and Airport Business Parks and as an enabler for the delivery of an internationally recognised district for innovation, research and manufacturing centered around the airport.
As well as enabling the continued growth and expansion of the Airport and surrounding businesses, this investment in infrastructure will help to make Renfrewshire a more attractive, vibrant and sustainable place to live and work by better connecting communities and businesses; resulting in more employment opportunities for residents in Renfrewshire and the wider City Region.
Extensive engagement at each stage of the project allowed the input of local people to guide the development of the project. This has also demonstrated strong public support for the project, with the latest feedback surveys showing 94 per cent of respondents are behind the Glasgow Airport Investment Area project. See our 'Public Exhibition' articles for further details including the information displayed at these events which included the following video showing how the new infrastructure and potential future developments could look.
---
Latest News
The GAIA project has secured planning consent for all the works to be delivered and is in the final stages of the tendering process for the construction contract. Ahead of the main construction work, which is expected to start on site in summer 2019 and be complete by the end of 2020, preparatory works are currently progressing onsite. These include demolition works, archaeological mitigation, site clearance and further site investigation which are expected to be complete by May 2019.
A planning permission in principle application (PPiP), submitted to help address common planning, environmental and statutory requirements for the future development at the envisaged at the GAIA site - at the centre of the emerging advanced manufacturing district - was also approved by Renfrewshire Council's Communities, Housing & Planning Policy Board on 26 March 2019.
For the latest updates on Renfrewshire's City Deal projects see the Latest News page.
---
Keep Me Posted
Click here to subscribe to our 'City Deal' mailing list so that we can let you know when we have updates on Renfrewshire's City Deal projects or to tell you about details of our public engagement events.