Saints Streets
On 2 January 2009, St Mirren played their last game at Love Street before moving to their new home in Ferguslie at the Paisley2021 Stadium.

Supporters were given the opportunity to maintain a part of St Mirren's history at the site of the old stadium.

In partnership with Sanctuary Scotland, who are building 132 homes at the former site, and with the support of St Mirren FC, Renfrewshire Council ran a competition which allowed the public to name five streets in the development.
The judging panel - including St Mirren chairman Gordon Scott and super supporter Chick Young - considered the entries and a final shortlist went to the public vote.
More than 1000 suggestions were whittled down to 15 and after more than 6000 votes were cast, the winners were:
Abercromby Avenue - marking the achievements of 1987 Scottish Cup winning captain and cult-hero Billy Abercromby, infamous for his no-nonsense approach.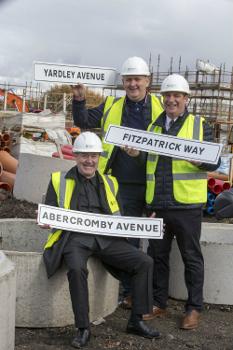 Fitzpatrick Way- in honour of current club chief executive Tony Fitzpatrick who was also part of the 1987 Scottish Cup winning team and enjoyed two spells as manager.
McGarry Terrace- recognising forward Steven McGarry who helped the club he supports to the 2000 First Division title and in memory of his late father Tam, a well-known St Mirren supporter.
Saints Street- celebrating the affectionate name for all St Mirren supporters.
Yardley Avenue- named after popular striker Mark Yardley whose glut of goals propelled Saints into the top flight in 2000.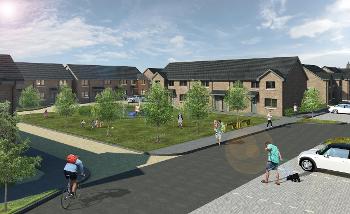 These five streets add to two already named 'North Bank' and 'Cairter's Corner' after well-known sections of the old ground they sit on the locations of.
Sanctuary Scotland has also confirmed it will name the children's play area at the new housing development after the club's mascot Paisley Panda.
The development will provide 103 houses for social rent and a further 29 houses for affordable sale through the New Supply Shared Equity scheme - contributing towards the Council's target to build 1000 high quality affordable homes in Renfrewshire by 2021.
The new homes are due to be completed by September 2019.
Rules and regulations
• A judging panel with representation from St Mirren, Sanctuary Scotland and Renfrewshire Council was convened to pick a shortlist from the suggestions and ensured the shortlisted entries meet all council and Royal Mail street-naming requirements
• That included ensuring there is no clash with names already taken - so any ex-players whose surname was already shared with an existing street in the town weren't able to have a street named after them.
• The shortlisted squad went to an online public vote, where everyone voted for their favourites. Voting was restricted to five per person. The five names with the most votes were declared the winners.