5 Minutes with Johanna Pronk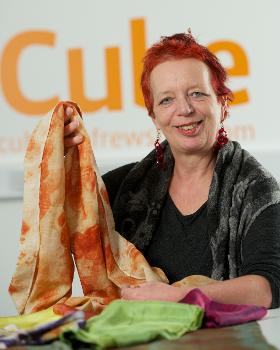 Why the Name - Mechelina Studios?
Mechelina is my middle name. It is also the name of my grandmother whose accessories attracted me as a young child to experiment in dressing up.
Mechelina represents the colourful and creative side of me.

What motivates you?
The inspiration I get from colour, nature, light, plants, vintage, art galleries, flavours, scents. I can find inspiration in most places. This all motivates me to create.
There's also learning new skills at workshops, interaction and sharing ideas with other makers and inspiring each other. Seeing the complete product after it has been unbundled or taken out of the dye pot, the scent of eucalyptus, madder or indigo whilst I am working with these amazing gifts from nature.

What does your brand bring to the world?
Mechelina studios brings eco-friendly naturally dyed and beautifully coloured textiles in the world. The dyes are produced by myself and extracted from plants (for example onion, madder, indigo, autumn leaves, marigold) and sometimes insects (cochineal).
I design the scarves, they are all individually hand-dyed using techniques such as eco-print or shibori. The scarves are made of natural and sustainable materials such as wool, silk, hemp or linen.
What do you think is the biggest challenge facing start up businesses?
The biggest challenge is to remain true to your values and persist with your ideas and place value on your work.
What's the most important lesson you've learnt so far in your career?
To be patient and persistent, keep going at slow times. To learn who your customers are and what products they like, listen to their feedback. Above all to treat your customers well and respond quickly to requests.
What's the one piece of advice you would give to someone starting out in the industry?
To go for it and keep learning and developing whilst progressing the business.
Keep in mind a balance of creative making of products as well as developing practical skills around marketing, website and social media.
If you weren't doing this, what would you be doing?
I would either have a vintage shop with 40's and 50's dresses or be a hatter. I have done a few millinery courses and would be keen to use some this in future, for example a naturally dyed straw hat dipped in my organic indigo vat.
Which is your own favourite piece from your collection?
That is hard to say, I love the combination of eco-print and indigo. For eco-print I often use eucalyptus from the florist or peony leaves from my garden.
I also like making colour combinations using itajime shibori, a technique where I clamp the material between boards so a resist is formed and allows for only a part of the fabric to be coloured.
Why InCube?
It is great to be part of a creative community and in InCube I learn lots of new skills.
The one to one support is great and there are good workshops too. It helps me focus and question the way I run my business.
Quick fire questions
Instagram or Twitter? Instagram
Sketchbook or computer? Sketchbook
Favourite food? Shellfish
Favourite way to relax & unwind? Beach walk