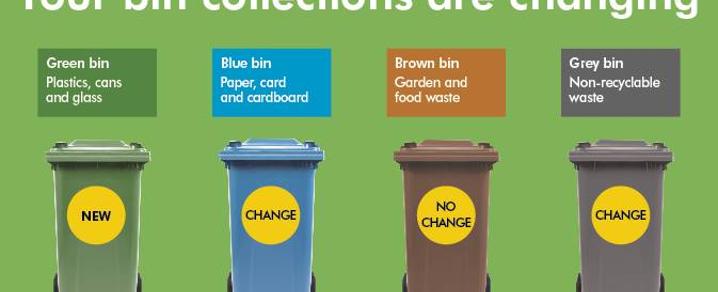 What is changing?
You are set to see a change to your bin collections later this year.
The changes will come into effect for most of Renfrewshire in November this year, with Park Mains, Bargarran, Rashilee and North Barr areas of Erskine changing in early 2019.
So what are the changes?
Firstly, you'll be receiving a new green bin which will be for plastics, cans and glass.
This will be delivered in advance of the new collection arrangements along with details of what should or should not go in each bin, and your new collection schedule.
You should start using your new green bin as soon as you receive it.
Your four bins will now be:
- A green wheelie bin for plastics, cans and glass which will be collected every four weeks (alternate fortnightly with the blue bin).
- The blue bin will now be for paper and cardboard only and will be collected every four weeks (alternate fortnightly with the green bin).
- The grey general waste bin will be collected every three weeks
- There is no change to the brown food and garden waste bin, if you have one, which is still collected fortnightly
You will still receive a collection every week of at least one bin.
Does this affect everyone?
The new collection service will impact on the approx. 90,000 properties across Renfrewshire which have a kerbside collection service.
Approximately 30,000 properties, which includes tenements, maisonettes and high flats, may see no change to their general waste collection but the service will be tailored to allow these properties access to the new service.
Bespoke solutions will be in place for areas which cannot accommodate individual bins and these will be communicated in advance to the households affected.
You will be fully informed of any change to your collection in advance.
Why is this happening?
We're committed to reducing the costs of disposing of our waste while reducing the impact on the environment and the amount of waste we send to landfill. The new service is designed to meet our obligations and encourage a higher level of recycling.
We've found through research that up to 69% of the rubbish being placed in the general waste bin could have been recycled.
The new service aims to encourage people to be better recyclers and increase the space available in your general waste bin.
We also need to comply with the Scottish Government's ban on untreated biodegradable waste being sent to landfill by 2021, as well as ensuring we fulfil the national Household Recycling Charter objectives.
What do I need to do?
You don't have to do anything at the moment.
We are carrying out a public information campaign to ensure everyone has all the details they need in advance of the changes and we will work closely with you to guide you through the new process.
An information pack will be delivered to your home which will contain a guide, a bin collection calendar and stickers that illustrate which items should go into which bin.
We're also held a number of roadshows across Renfrewshire throughout September to ensure that residents have the opportunity to find out more information and speak to one of our Waste Advisors on how the changes will affect them. If you missed out then please email mybins@renfrewshire.gov.uk to ask any questions.
This section of the website will also be continually updated to ensure all information is available in advance of the changes, including an evolving list of frequently asked questions.
Keep an eye on the Council Facebook and Twitter channels too as we'll be posting information there as often as possible.