Seasons Greetings
2019 is almost over and it's been another great year.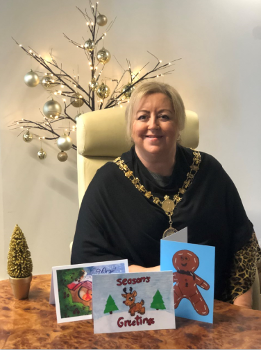 Community has been at the forefront of my mind this year and I've really enjoyed getting out and about meeting people, visiting local groups and schools and seeing all the great work that you do.
I was honoured to recognise some outstanding community members back in March with a Community Award. I'm inspired every year by how hard working and generous people can be.
This year we celebrated our 50th anniversary of being twinned with Furth in Germany and the Mayor of Furth visited the town to mark the occasion. Celebrating our strong international links is very important and I enjoyed showing our German friends around Renfrewshire - they even experienced the Paisley Food and Drink Festival!
I was excited to launch my Provost's School Exchange Fund this year which will enable schools to take groups of pupils to visit schools in either Furth or our other twin town of Gladsaxe in Denmark. As well as forming friendships, the exchanges contribute towards acceptance and understanding of different cultural traditions.
My charity in 2019 was St Vincent's Hospice. They have been providing essential services to our local community for thirty years and I'm proud to be able to show my support for them and help raise awareness of the great work that they do. St Vincent's Hospice began supporting local people in the 1980's and I had brilliant fun hosting an 80's themed party night to raise funds for the charity.
If I had to pick just one highlight from my year as Provost of Renfrewshire it would be our final council meeting of the year when a group of pupils from Todholm Primary School came to entertain us with some Christmas carols. They were fabulous and even managed to get us all on our feet clapping and joining in with the festive fun. Well done Todholm!
I'm looking forward to spending Christmas and New Year with my family, however it's also in my mind that not all children and families will have the same happy, excited, Christmas feeling. Please take a moment to think of them and, if you can, make a wee donation to your local charity to help those families experience just a wee bit of the joy that others are going to feel on Christmas morning.
I wish you all a very merry and peaceful Christmas and all the best for 2020.
Lorraine