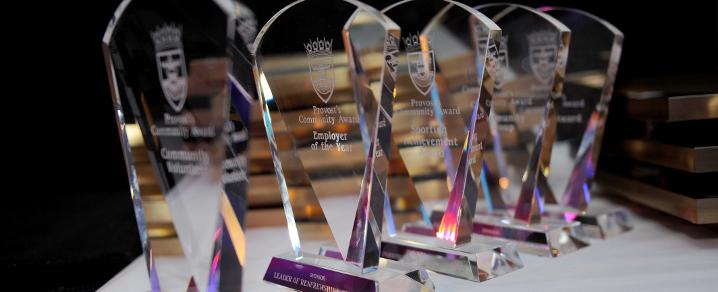 Last chance to nominate in the Provost's Community Awards 2020!
Don't miss out on the chance to nominate your local heroes! Nominations for the Provost's Community Awards 2020 close on Friday 6 December so don't leave it too late.
Nomination forms can be downloaded in the Related Documents section of this page.
Please save these to your computer and open in Adobe Reader to complete.
Completed forms can be returned by email to provostawards@renfrewshire.gov.uk
Here are the six categories you can nominate in:
Arts & Culture
This category is open to either individuals or groups who have demonstrated their creativity through the common elements of arts and culture for the benefit of the community and not for profit.
Carer's Award
Open to any individual or group who offers care to a relative, friend or neighbour. There are many unpaid carers in today's society - e.g. a friendly neighbour who "pops in" to check on their elderly neighbour on a weekly basis.
Community Group
Recognises groups involved in improving their community, e.g. supporting others to make their lives better; involvement in local environmental project; helping establish a community event; contributing to improving community safety, etc.
Community Volunteer
Recognises individual contributions to the community and their dedication to the people and organisations that benefit from their selfless endeavour.
Employee of the Year
This category is for employers who wish to nominate employees who have gone above and beyond in their role, perhaps supporting colleagues, or giving exceptional customer service which has made a real difference.
Sporting Achievement
This category is open to either individuals or groups who have achieved sporting success, perhaps having overcome adversity or personal sacrifice to compete.
---
For more information on the Provost's Community Awards, contact:
provostawards@renfrewshire.gov.uk
or
Provost Lorraine Cameron
Provost's Community Awards
Renfrewshire House
Cotton Street
Paisley
PA1 1WD
T's & C's
Our judging panel look at all the nominations and come to a decision once the deadline has passed.
The panel is made up the Provost, the award sponsors and small number of councillors from across the political parties.
Someone can be nominated again even if they've been nominated in a previous year.
You can nominate a relative for an award
The winner and their nominator will be invited to attend the event, each with a guest if required.
Winners will be required to take part in publicity of the awards.
Published 5 December 2019