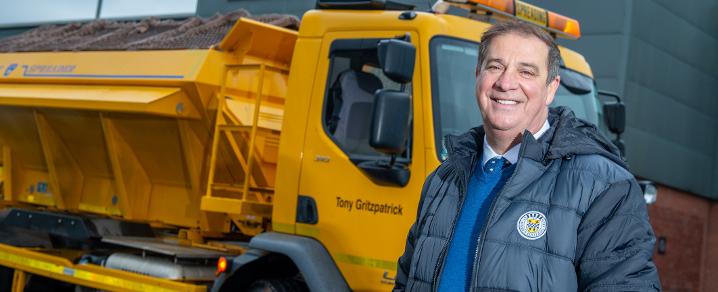 Saints legend Tony gritz ready for the winter weather
Over his sixteen-year playing career, Tony Fitzpatick made countless clearances on the pitch, but it's the streets of Renfrewshire that his namesake will be making sure are clear of snow and ice this winter.
Last year, a campaign to #NameOurGritters saw more than 8000 votes cast online to name Renfrewshire's gritting machines after famous faces and places, with Tony Gritzpatrick coming out on top alongside other famous names such as Ploughlo Grittini and Thawin' Batty.
Now, much like its alter-ego, Tony Gritzpatrick is making the communities of Renfrewshire a better place to live, as it clears the roads and keeps the area moving throughout the winter period.
Tony joined his gritter at St Mirren's Simple Digital Arena to see it in action as it prepares to join eight other gritting machines in covering more than 800km of roads across Renfrewshire, with the potential to spread more than 4000 tonnes of grit throughout the winter period.
Tony said: "Winter is a very busy and challenging time for a lot of people so it's really important that we look after our communities to allow people to go about their business as normal."
Tony was fresh from a visit to Fitzpatrick Way, a street named in his honour following Renfrewshire Council's competition to name the streets at the former Love Street ground which has been developed into affordable housing by Sanctuary Scotland.
Tony added: "I am looking forward to seeing my gritter out on the roads this winter. It's very surreal to have a gritter named after me and given how often I am out and about in Paisley I'm sure I'll spot it before too long."
What is #RenReady?
The #RenReady Ready for Winter campaign aims to make residents and workers in Renfrewshire aware of how to prepare for winter weather conditions, while also highlighting the work of frontline council staff who keep services operating whatever the weather.
Residents will once again be able to track Renfrewshire's gritters on the council website as they work day and night, when required, to keep the roads network free of snow and ice and can access helpful information and advice on how to stay safe and prepare in advance for adverse weather.
#RenReady also aims to provide information on a variety of other issues such as how to avoid winter illness, how to keep warm throughout any cold weather snaps and what to do if flooding strikes.
For more information on how you can be prepared for winter in Renfrewshire, visit Ready for Winter.
Published 3 December 2019.