There's still time to nominate your local heroes
Nominations for my 2020 Community Awards close on Friday 6 December so if you've been thinking about submitting a nomination then now is the perfect time!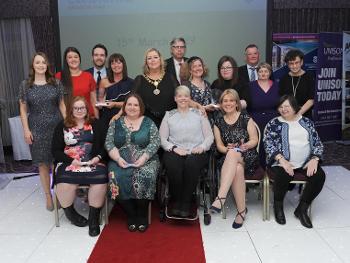 One of my favourite things about being Provost is hearing all the inspiring stories about local people who are going above and beyond for their communities and I love that I'm able to recognise some of them through the Community Awards.
We've had some great nominations so far but there's still space for a few more unsung heroes!
Here are the six categories you can nominate in:
Arts & Culture
This category is open to either individuals or groups who have demonstrated their creativity through the common elements of arts and culture for the benefit of the community and not for profit.
Carer's Award
Open to any individual or group who offers care to a relative, friend or neighbour. There are many unpaid carers in today's society - e.g. a friendly neighbour who "pops in" to check on their elderly neighbour on a weekly basis.
Community Group
Recognises groups involved in improving their community, e.g. supporting others to make their lives better; involvement in local environmental project; helping establish a community event; contributing to improving community safety, etc.
Community Volunteer
Recognises individual contributions to the community and their dedication to the people and organisations that benefit from their selfless endeavour.
Employee of the Year
This category is for employers who wish to nominate employees who have gone above and beyond in their role, perhaps supporting colleagues, or giving exceptional customer service which has made a real difference.
Sporting Achievement
This category is open to either individuals or groups who have achieved sporting success, perhaps having overcome adversity or personal sacrifice to compete.
If you've been thinking about nominating but haven't yet then what are you waiting for? Don't miss the chance to recognise those who are changing lives in your community.
I can't wait to see your nominations.
Lorraine
Published 28 November 2019