Christmas is coming to Renfrew
Renfrew will shine bright this Saturday, 23 November, as the Christmas lights are switched on in the town.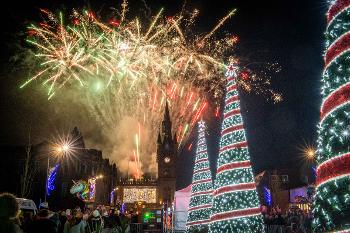 The festivities in the town centre kick off at 12pm and there's a sleigh-load of free family fun on offer to keep even the littlest elf entertained.
Don't miss free face painting and a balloon artist in Renfrew Town Hall until 4pm, and there will be performances of Clydebuilt Puppet Theatre's Lost Bear's Christmas at 12pm and 1pm.
It wouldn't be Christmas without carols and the Renfrew Burgh Band will keep you entertained with all the favourites during their annual carol concert in Renfrew Town Hall from 3pm.
Santa will be taking a break from his busy schedule to hear what the boys and girls of Renfrew have on their lists this year - you can find him inside the Renfrew Christian Fellowship Hall until 4pm. Don't forget to say hi to Rudolph and his friends!
There's something for the thrill seekers too with a funfair in Charles Avenue car park until 6:30pm.
Main Stage
Follow the fun and enjoy some great music on the Main Stage:
DJ Gus from Pulse FM: 3pm - 3.10pm
School of Glee: 3.10pm - 3.25pm
Amanda Campbell: 3.30pm - 3.45pm
Allan Purvis: 3.50pm - 4.15pm
Brittany Davis: 4.30pm - 4.50pm
At 5pm, the lights will be switched on and the sky above Renfrew will be lit up with a spectacular fireworks display.
This year Mairead, age 9, from St James' Primary will help Renfrewshire's Depute Provost Cathy McEwan switch on the lights after being selected as one of the winners to the Provost's Christmas Card Competition..
Published 15 November 2019