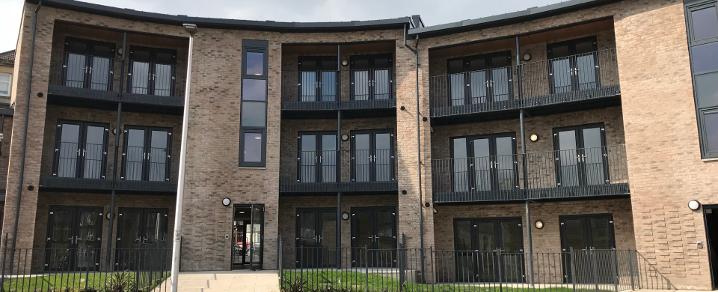 On target to deliver 1000 affordable homes
Together with our housing association partners, the Council is on target to deliver more than 1000 affordable homes by 2021.
The latest Strategic Housing Investment Plan - known as SHIP - has just been approved, setting out plans to increase the supply and range of properties in Renfrewshire for social rent and low-cost ownership.
The report highlights more than 300 affordable homes have been built since 2016 at developments in Linwood, Paisley and Renfrew. A further 370 properties are scheduled for completion by March 2020 followed by 400 new homes by March 2021.
Where will the new homes be?
Right across Renfrewshire.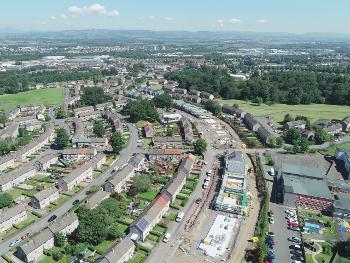 There are Council-led developments well under way at Johnstone Castle where former tenements are being replaced with a mix of two, three and four-bedroom Council homes and own-door flats, while 80 Council homes at Dargavel Village, Bishopton includes a number of properties specially designed for older people.
Next year sees several developments led by local housing associations, with Sanctuary Scotland and Paisley Housing Association working jointly on 131 homes for social rent and low-cost ownership in Glenburn, while Williamsburgh Housing Association are building 18 one and two-bedroom homes for social rent in Kilbarchan.
Major housing-led regeneration projects are also progressing well in Paisley's West End and the Tannahill area of Ferguslie Park.
In Paisley's West End, all Council tenants are re-housed and the local growing grounds relocated to a more prominent site nearby as Sanctuary Scotland progress their plans for the phased development of around 150 homes for social rent and affordable sale.
At Tannahill, AS Homes (Scotland) are due to be appointed to build 101 newbuild Council houses, with construction work expected to start in June 2020 providing a mix of terraced and semi-detached houses, flats and bungalows, on the site of the former St Fergus' Primary School. Architects have also been appointed to consider the wider Ferguslie Park area, looking at vacant land and buildings and opportunities for new community and cultural activities.
What's been the reaction?
Natasha-Ann Mccalman moved into her 3-bedroom house at the £6.2million Sanctuary Scotland development in Paisley's West End in February with her 7-year-old daughter Islay and 4-year-old son Tee-Jay
She said: "It's a dream house for us. We like the spaciousness, it has state-of-the-art facilities and the kids really love the garden. My son has autism and with everything on the one floor it gives him the freedom he needs. Sanctuary have been brilliant with me if I've ever any questions and being in the west end of Paisley is a good location too, close to the bus links and right next to the town centre."
Councillor Marie McGurk, Convener of the Council's Communities, Housing and Planning Policy Board, added: "The fantastic new development in the west end of Paisley is just one example of our collective commitment together with our housing association partners to provide high quality affordable homes of all shapes and sizes for families to grow and people to prosper. I'm delighted that we're on track to build 1000 affordable homes by 2021 and it's particularly pleasing to see these homes designed to meet both current local needs and those of future generations.
"I'm pleased to see the major regeneration projects progressing well and critically each stage sees strong support and engagement with local residents and community members. The work in Paisley's West End will breathe new life into this neighbourhood and create stronger links to the town centre, while in Tannahill the development will enable the tightknit community to stay together and benefit from high quality council houses.
"As well as newbuild developments we are investing in our existing housing stock to ensure all council tenants have well-maintained energy efficient homes to be proud of as we make Renfrewshire an attractive place to live and work."
Published on 30 October 2019