Trick or Treat?
The dark circus is coming to Paisley and I can't wait to experience it.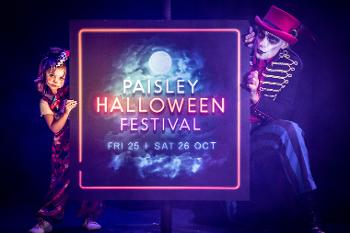 The Paisley Halloween Festival kicks off tonight in the town and this year's festival is set to be the biggest and best yet.
This year, the event takes over the whole town centre with activities programmed in every corner and there's guaranteed to be something for all the family to enjoy.
Last year I really enjoyed watching the aerial performers take to the skies over Paisley Abbey and I'm excited to see what they have put together this year. Once again local young people are taking part and there will also be a special performance involving dancers from Paisley's Dirty Feet Dance Company who will soar above the crowds in specially adapted harnesses.
The parade on Saturday night is always a highlight and this year's new route will ensure there's plenty of opportunity for you to see it. I will be watching with my 8 year old grandson and he is so excited about it!
Of course, a Halloween Festival wouldn't be complete without spooky storytelling and pumpkin carving and you can find both in Paisley Abbey.
The programme this year is huge with tricks and treats for everyone. You can check out the full event information here.
See you there!
Lorraine
Published 25 November 2019