Employability project with a difference
Recently I was invited to attend the launch of the next cohort of DFN Project Search students.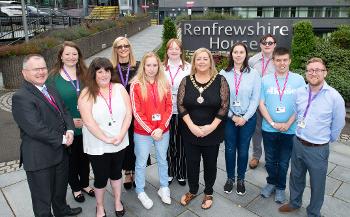 DFN Project SEARCH Renfrewshire is a college based, employability programme for young people with learning disabilities and/or autism, ran as a partnership between Renfrewshire Council and Glasgow Clyde College.
The programme is delivered full time over an academic year and students work towards achieving a recognised qualification in employability.
Throughout the year, the students gain more than 600 hours of practical work-based learning and training, the majority of this through three different work placements within Renfrewshire Council.
It is one of our most rewarding programmes and students benefit both from the employability skills gained and from the social bonds they form throughout their time on the course.
Many graduates of DFN Project SEARCH go on to gain employment within the council and local businesses thanks to the skills and experience gained through the programme.
I really enjoyed meeting all the students and seeing their enthusiasm to get started with their journey in to employment. It was lovely to speak to them all.
Recently the age limit for DFN Project SEARCH has been extended and students up to the age of 29 are now able to apply. If you know someone who might be interested in taking part in the future, you can contact the team at invest@renfrewshire.gov.uk
I wish the students all the best for the future and I can't wait to see what they can achieve.
Lorraine
Published 13 September 2019