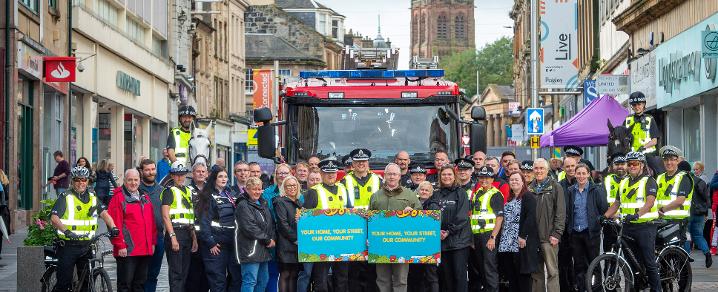 Paisley town centre latest area set to benefit from successful intervention programme
Partners from across Renfrewshire are set to join forces to tackle Paisley town centre as part of a national intervention programme to build safer and stronger communities.
The Your Home, Your Street, Our Community programme is a partnership approach led by Police Scotland, and supported by Renfrewshire Council, Engage Renfrewshire, the Scottish Fire and Rescue Service and the Renfrewshire Health and Social Care Partnership, which tackles the local issues that matter to residents.
So how do I get involved?
Anyone who lives or works in Paisley town centre is being urged to submit their views on how to improve the town centre by completing the online survey by Friday 27 September.
Information will be made accessible at local community hubs in Paisley town centre, as well as an online survey being available for residents and businesses to submit their views.
The partnership working group will then design a plan of support to tackle identified issues and implement it into the area, as well as providing the local community with the support needed to sustain the improvements once the intervention is over.
Has it worked before?
Paisley town centre is the latest area to benefit from the programme following successful interventions in Shortroods, Erskine, Ferguslie and Gallowhill, where the work carried out noted a decrease in the issues initially identified by residents in those areas.
The most recent intervention in Shortroods saw 74.5% of respondents, an increase of 17.5%, stating they felt Shortroods was a fairly good, good or very good place to live, 65% of residents now feeling safe in their neighbourhoods, an increase of 31.5%, and more than 86% felt safe in their homes thanks to the work of the programme.
What do the key partners have to say?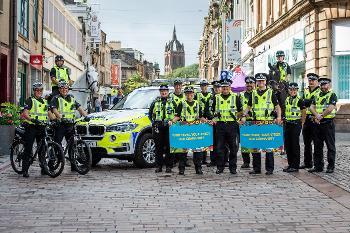 Chief Superintendent Alan Murray, Divisional Commander of Police Scotland Renfrewshire & Inverclyde Division, said: "Initiatives such as this allow local residents, businesses and visitors to Paisley Town Centre to play an active part in highlighting and addressing issues of concern within this community.
"By ensuring a strong collaborative partnership approach, we can work together to improve services, reduce crime and provide a safe and pleasant environment for members of the public coming into the Town Centre in whatever capacity.
"I would urge everyone who has any reason to be in Paisley Town Centre to complete the online survey which will guarantee that the partnership team focus on the issues causing the greatest public and community concerns"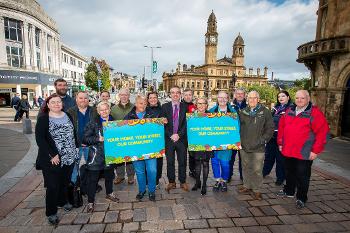 Councillor John McNaughtan, Depute Convener of Renfrewshire Council's Communities, Housing and Planning Policy Board, said: "The partnership working between everyone involved in the programme is fantastic and it has made a real, sustainable difference to the communities it has been in previously.
"It looks at the issues that the community identify need addressed so I would encourage everyone to fill out the survey and let us know what we need to tackle in Paisley town centre."
I want to find out more about it.
For more information on the programme and to complete the survey, visit Your Home, Your Street, Our Community.
Published 12 September 2019.