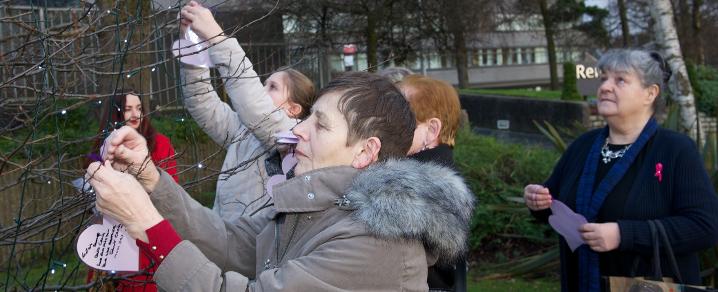 Every Life Matters - setting out our support for Suicide Prevention Week
If you're struggling with your mental health, please use Suicide Prevention Week to seek the help and support you need.
Last year, 13 people in Renfrewshire took their own lives and we are working closely with the Renfrewshire Health and Social Care Partnership to provide the support needed to lower the risk of anyone dying by suicide in the future.
This year's theme for Suicide Prevention Week 2019 is 'Working Together to Prevent Suicide' and acknowledges the importance that a public health approach is needed to address suicide rates in Scotland.
NHS Health Scotland and NHS Education for Scotland worked together to develop an online resource 'Ask Tell Save a Life: Every Life Matters' to support suicide prevention, as part of the Scottish Government's Suicide Prevention Action Plan.
The campaign acknowledges that signs of suicide can be difficult to spot but encourages people to take all signs of distress seriously, even if it seems a person is living a normal life.
Douglas Johnston, Choose Life Service Coordinator, said: "If someone you are close to shows signs of not being themselves, you will normally notice.
"When changes in their behaviour begin to worry you, even if the signs come and go, the most important aspect is to ask them about it.
"Talking openly about their feelings can help a person get clarity about what is troubling them and starting this conversation helps them gain a perspective on their distress.
"You don't need to have a solution to their problems - being there for them and listening, without judgement, can be enough to show that you care.
Renfrewshire's Provost Lorraine Cameron hosts an annual memorial service for those lost to suicide where friends and family can place hearts onto the commemorative tree outside Renfrewshire House.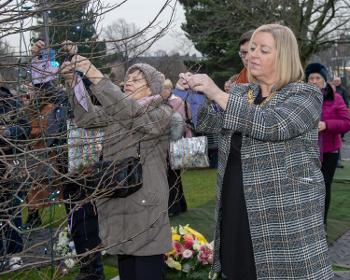 Provost Cameron said: "We all face struggles in our lives with our mental health, myself included, and not everyone is fortunate enough to be able to put a brave face on and keep going as normal.
"If you have any concerns, please ask someone if they are having trouble coping. It won't put bad thoughts into their head if they weren't there before, but it can be a big relief for them to be able to open up fully and acknowledge they need help and support.
"By taking the time to show you care and are there to listen, you could change their life."
If you are feeling suicidal, or you know someone that might be then please call one of the helpline numbers: Samaritan's 116 123, Breathing Space 0800 83 85 87, RAMH First Crisis 0141 849 90 90 or 0500 829 093
For more information contact the Choose Life Team on 0141 849 2200, email, Choose Life Renfrewshire or visit SOBS Renfrewshire.
Published 10 September 2019.