Preparing to mark Merchant Navy Day
Did you know that we depend on the Merchant Navy to keep our island afloat? They are responsible for 95% of the UK's imports - including half the food we eat and virtually all the products we take for granted.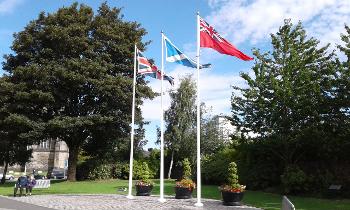 Merchant Navy Day has been held on 3 September since 2000 to honour the brave men and women who served during the two World Wars and to celebrate the modern-day seafarers who ensure we have all the supplies we need.
On Tuesday 3 September we will be holding a flag-raising service outside Renfrewshire House where we will raise the Red Ensign - the UK Merchant Navy's official flag.
The campaign to raise the Red Ensign across the nation each year on this day has been organised by Seafarers UK.
Seafarers UK helps people in the maritime community by providing vital funding to support seafarers in need and their families through organisations and projects that make a real difference to people's lives.
I would love to see as many people as possible there to support our seafarers and veteran community and would encourage as many past and present members of the Merchant Navy to attend. I always look forward to hearing your stories and memories.
The flag will be raised in a short service at 11am and will be followed by teas and coffees in Paisley Abbey.
The Red Ensign will also be flown outside Renfrew and Johnstone Town Halls on Tuesday.
Lorraine
Published 30 August 2019