Apply now for the next InCube programme
InCube Creative, run by Renfrewshire Council and developed by Invest in Renfrewshire, is encouraging local entrepreneurs to apply to their innovative start-up programme.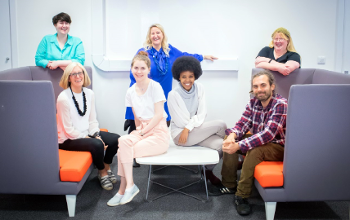 Over the last four years, the business development programme has supported 50 talented entrepreneurs working across retail, fashion, textiles, jewellery and crafting - and the team is now calling for dynamic designers and artists to get involved in the next round of workshops, starting in September.
Applications are open to entrepreneurs who are based in Renfrewshire, or are considering setting up in Renfrewshire, and who can commit to attending the core programme for two days each week.
Milliner Susie Rodgers is one of the nine individuals currently completing the programme.
Susie said: "InCube has been a fantastic help and has encouraged me to focus on where my business is going.
"The 'build a website in a day' session was invaluable, and I know that what I've learned will be great for my business going forward.
"There's so much to do in running your own business and InCube really helps you to focus in on your ideas and bring them to life."
Entrepreneurs who gain a place on the programme receive a package of free business advice, free office space, and up to nine months free IT support.
They also receive specialist support to develop ecommerce and online trading facilities, training to enhance their business and entrepreneurship skills, space to sell their creations, and on completion of the programme, a grant to help boost their business.
Cindy Robb, economic development co-ordinator at InCube, said: "We've been really impressed by the creativity and innovation shown by this year's businesses.
"The entrepreneurs come to us with a lot of dynamism and great ideas, and we help them to focus in on what they want to get out of their business.
"Our programme equips businesses owners with skills that prepare them for the future, and help them stand out from the competition."
The closing date for applications is Monday 12 August.
Candidates will be invited to pitch on Friday 23 August and the successful individuals will be notified from Monday 26 August.
The induction programme will begin on 9 September.
For more information visit www.incube.ren/incube-competition-2019
Published 19 July 2019