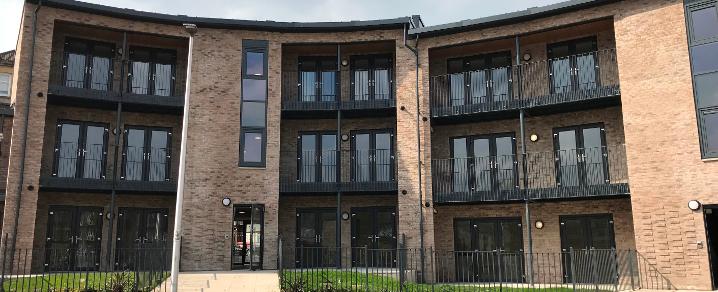 New homes first step in Paisley West End's regeneration
A £6.2 million housing project marks the first step in the regeneration of Paisley's West End.
In partnership with Sanctuary Homes, we have transformed the site of Wellmeadow Street's former Co-Op supermarket with 39 affordable properties, 24 flats and 15 houses for social rent.
Who's moved in?
James Hayes is one of 11 people to move into Wellmeadow Street as part of the west end regeneration initiative and he's thrilled to have a ground-floor flat after 44 years having to struggle with stairs.
James, 81, said: ""It's magnificent. I can take my mobility scooter into my flat and no longer need to leave it outside.
"Moving here has given me a new lease of life. I love everything about my flat, even the kitchen sink."
Michelle Calderwood and children Ellie, 6, Corey, 4, and Layla, 2, moved into a semi-detached house from a first floor flat in Gallowhill.
Michelle, 28, said: "The kids are never out of the garden, they absolutely love it. It's made a massive difference to our lives."
How was this made possible and why is it so important?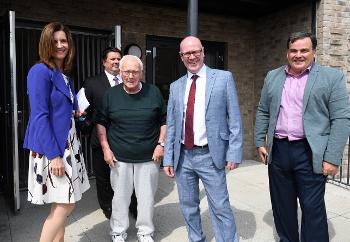 Kevin Stewart, Minister for Local Government, Housing and Planning, joined Council Leader Iain Nicolson to visit the development after a £3.4 million grant from the Scottish Government made the project possible.
Kevin said: "I am delighted to see the real difference these new homes are already making to the people living in them, and to the wider community. A house is so much more than just somewhere to live - it provides a sense of belonging and pride, inspiring independence and wellbeing.
"High quality developments like this are a testament to the strong partnership working between housing associations, local authorities and the construction industry.
"Housing is central to our vision for a fairer Scotland, playing a vital role in eradicating poverty, promoting inclusive growth and creating vibrant, well-connected communities.
"We want everyone in Scotland to have a warm, affordable, safe place to live. That's why we're investing a record £3 billion for 50,000 affordable homes by 2021, of which 35,000 are for social rent."
Councillor Nicolson said: "We are committed to delivering high-quality, affordable homes across Renfrewshire and we're keen to work with partners like Sanctuary to create thriving communities.
"The redevelopment of the former Co-Op site is a key stage in the wider regeneration plans of Paisley's west end and I'm looking forward to seeing the transformation of this area continue."
Peter Martin, Sanctuary's Group director - development, said: "Our Wellmeadow Street project is an important milestone in the regeneration of Paisley's west end. In partnership with the Scottish Government and Renfrewshire Council we will build more than 150 affordable homes for sale and rent to help transform this area.
"Sanctuary has an impressive track record of award-winning regeneration in Scotland. We will now work with the residents and businesses within the regeneration zone to progress our plans as quickly as possible."
What's next?
The project's completion enables us to press ahead with plans for around 44 affordable homes in Sutherland Street and Underwood Lane, with later phases set to see more new homes built in Well Street, Clavering Street and further properties in Underwood Lane.For more information on the regeneration of the area, visit Paisley's West End.
Published 18 July 2019.