Weavers and Thread Makers
Last week I attended the opening of the "Mapping Paisley's Textile Trade" exhibition.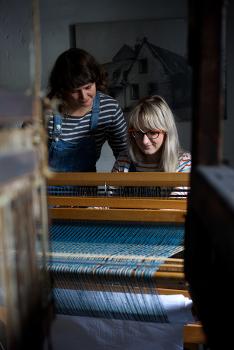 The exhibition features a selection of woven textiles by Heather Shields and Shielagh Tacey, who have been taking part in a residency with the Sma' Shot Cottages for the past two years as part of the Paisley TH.CARS2 regeneration programme.
The woven textiles on display have been inspired by an annotated map of Paisley from 1857 and explore the different techniques and materials used by Paisley's weavers and the links between the town's textile industry and architecture.
I was delighted to attend the opening which was held at the Made in Paisley gallery on the High Street.
As well as the work from Heather and Shielagh, the exhibition also showcased pieces made by participants who have attended the weaving workshops that they have held during their residency.
It was fantastic to see all the pieces that have been created over the past two years displayed together, highlighting the impact that weaving and textiles have had on our town.
The exhibition runs until Sma' Shot Day, Saturday 6 July, from 10am - 6pm, so please take the chance to visit if you haven't already.
Well done Heather and Shielagh on a fantastic exhibition!
Lorraine
Published 5 July 2019