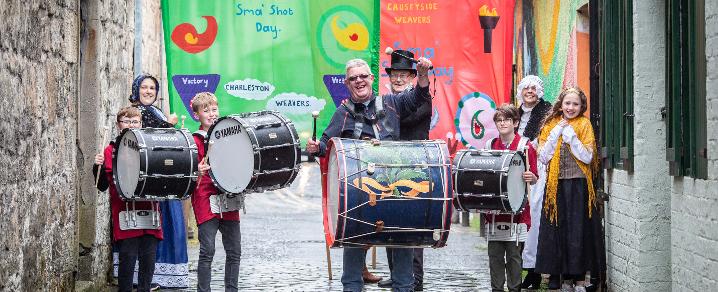 MEDIA RELEASE: Sma' Shot Day to take over Paisley at weekend as event returns to roots in new site
One of the world's oldest workers festivals returns to its roots on Saturday when Paisley's annual Sma' Shot Day celebrations sees a day-long family extravaganza in an all-new event site.
This year's event will bring the streets around the Sma' Shot Cottages alive with activity - with more than 50 events taking place across 20 different venues spread throughout the town centre.
The theme is 'let's party like it's 1856' - with a crowd of thousands expected to gather for the event, which is inspired by and celebrates Paisley's rich weaving heritage.
The fun starts when the traditional parade - featuring colourful characters, floats and costumes and led by the Charleston Drum - leaves Brodie Park at 12 and heads for the town centre down Neilston Road and Causeyside Street before ending at Orchard Street.
There, the main stage on Witherspoon Street is hosted by Pulse FM and includes performances throughout the day from local groups including PACE Youth Theatre, Starlight Music Theatre and a drumming finale from the Charleston Drummers School of Rock.
The spectacular Burning of the Cork - which celebrates the 19th century victory of the weavers over their bosses in an industrial dispute - takes place outside Paisley Arts Centre at 1.20pm.
The bulk of the activity is on between 12 and 5pm and includes:
- outdoor beach, face-painting, Maker's Market and craft activities at Paisley Arts Centre, with a Sma' Shot Poetry Slam that evening (7.30 to 10pm);
- kids' activities including circus skills, carnival workshop and storytelling, plus a programme of poetry, spoken word and live music on the Dooslan Stane Stage in Brown's Lane;
- Shuttle Street businesses opening up for a family ceilidh with local group Fèis Phàislig in The Bungalow, plus writing, art and fashion workshops by Create Paisley and Re:Mode in Faction nightclub;
- the chance to see traditional weaving demos in the Sma' Shot Cottages;
- events run by the TH.CARS2 programme to celebrate Paisley's heritage, including a screening of Paisley in Stitches: Post-War adventures in DIY fashion in POP (the old Post Office) in the Piazza, and an exhibition called Mapping Paisley's Textile Trade at Made in Paisley on the High St;
- local business across the town throwing open their doors for the Creative Craft Trail, with designers from Renfrewshire's InCube creative business incubator showing off their skills at various venues around the town across Saturday and Sunday;
Residents living along the parade route in the south of the town should be aware there will road closures while the parade is on over lunchtime, while the event site in New Street and Witherspoon Street will of course be closed to traffic all day.
Full event details - including parade route, road closures, travel info and all the details you'll need to have a good time on the day are available at www.paisley.is/featured_event/sma-shot-day/
The event is part of Renfrewshire Council's major events programme which last year brought around 160,000 attendees and an economic boost of around £4.7m to Renfrewshire.