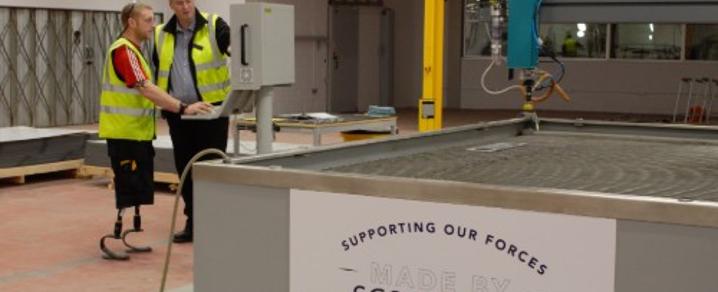 Lightweighting has heavyweight potential for all manufacturers
Michelle Ferguson is Director of Scotland's Bravest Manufacturing Company, which is a division of Royal British Legion Industries and a Social Enterprise which supports armed forces veterans and others with disabilities. Here she outlines how they have benefited from working with the team at the Lightweight Manufacturing Centre.
The centre officially opened today and is the first phase of the National Manufacturing Institute Scotland (NMIS) which is being built in the Advanced Manufacturing Innovation District Scotland (AMIDS).
Find out more about the Lightweight Manufacturing Centre
Read the Council Leader's reaction to the centre's official opening
Based in the Doosan Babcock facilities at Westway Park and run by the University of Strathclyde, the centre helps manufacturing companies to benefit from lightweighting technology.
"We took over the premises in Erskine Hospital Estate last year and have grown to a team of 17, with our main aim of helping people who face barriers to employment to learn new manufacturing skills, gain confidence and independence.
"We manufacture road and rail signs, specialist engineering cutting and prototypes. We became aware quite early in our manufacturing days that a number of these products had a real impact on the environment, causing thousands of tons to end up in landfill each year, so we wanted to consider a way to prevent this where possible and potentially re-manufacture them.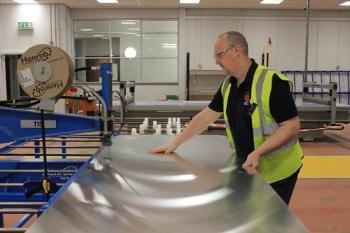 "As we didn't have the technological know-how, we approached the University of Strathclyde's Advanced Forming Research Centre who put us in touch with the team at the Lightweight Manufacturing Centre.
"I was surprised and delighted that they would give consideration to a Social Enterprise project like ours and they were so welcoming, involving our Operations Manager Andy Russell along with two of our veteran factory operatives Gary Jamieson and William Murray, throughout the full process.
"Everything about them was positive and their expertise has helped us to find a solution which we're now exploring further. We see it as a game-changer which could have a hugely positive impact on the environment.
"We're very proud to be based in Renfrewshire, where manufacturing is a real growth industry and embracing new technology and innovation. Many people may come to us initially because we're a social enterprise, but they stay with us because of the quality products we manufacture."
Published on Wednesday 26 June 2019
Main photos show Gary Jamieson and Andy Russell (Operations Manager) and inset photo shows William Murray of Scotland's Bravest Manufacturing Company.