Paisley upcycling hub will boost business and the environment
Angela Poultney isn't one to shirk a challenge.
As she prepares to open the doors to an upcycling hub in Paisley - the first of a series of creative hubs being established through support from Renfrewshire Council - Angela reflects on the journey that has brought her back to her hometown to follow in the family footsteps.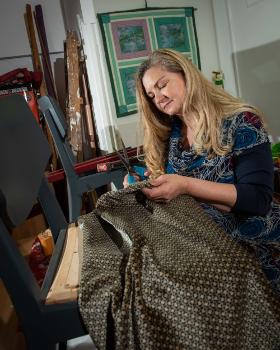 Her dad Bill ran renowned Morrison's Furniture Centre which served the town from its George Street premises for almost 50 years, while her brother Roddy owns Morrison's Bed Centre on Lawn Street.
"I guess I've always been a jack-of-all-trades, master of none," jokes Angela. "It all started out helping dad in his shop after school, but since then I've worked in so many industries and done so many things.
"I left for London aged 16 to study ballet, I've sold blinds, drove private ambulances, worked in mental health, ran a delicatessen, been in interior design, even won Territorial Army medic of the year.
"I came home four years ago to take care of my dad, who has Alzheimer's. He's now in a care home and I began to think about what I'd do next. As my daughter and son-in-law are passionate about the local environment they got me thinking about the damage we're doing and about the world we're leaving behind. That drew me towards upcycling furniture, making old stuff look beautiful and saving it from going into landfill."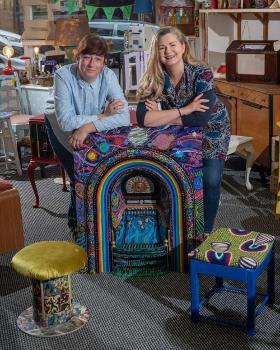 Angela completed a series of courses through Invest in Renfrewshire and tapped into the expertise at Business Gateway before opening a shop on Well Street.
Since then, Angela has teamed up with creative artist Anna Piasecka, and is now ready to move into larger premises as she opens Renfrewshire's first funded creative hub.
She added: "People love coming into our current shop as it's so colourful and everything is unique so I'm excited about the next chapter.
"Anna and I are forming a new business at new premises complete with a display area, space to run workshops, a messy room and four spaces for other 'upcycling' people to rent.
"This is so much more than an upcycling business - I want to support people and give them a purpose, empower them, give them a platform to showcase their creative talents and improve their wellbeing.
"Thanks to the council funding support, for everyone renting a workspace, all the overheads like electricity and water are included at a greatly reduced rate.
"The creative hub concept is great - helping to set people up in business and giving people with creative skills the chance to come together and produce products you can't get anywhere else."
Find out more about Up Hub on Facebook, Instagram and Twitter or email info@uphubworks.com
Published on Tuesday 25 June 2019