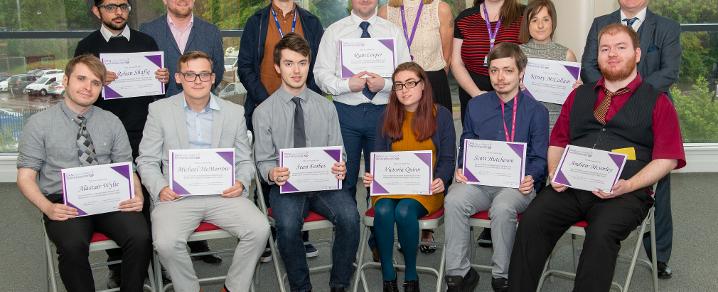 SEARCH is on for businesses to give graduates a chance in the workplace
Bright young graduates from across Renfrewshire have successfully completed an employability programme.
And now, local businesses are being encouraged to give the students a chance to succeed in their workplaces.
A total of 12 young people took part in the fourth cohort of Project SEARCH - a workplace-focused employability programme for students who have learning disabilities and/or autism.
Graduates are now looking to link up with businesses to secure employment. A total of 11 students graduated, with one student already gaining employment within a local hotel before the end of the programme.
The Renfrewshire programme is a partnership between Renfrewshire Council and Glasgow Clyde College, with students completing work placements in a wide variety of roles across the Council and in local businesses.
The Council has now set up a Project SEARCH Business Advisory Committee to encourage businesses to get involved.
In the 2018/2019 programme, students worked in business in sectors including administration, recycling, hospitality and leisure.
Project SEARCH has been running in the USA for almost 20 years, and now more than 30 programmes in the UK are helping young people with learning disabilities gain employment in their local area.
In its first four years in Renfrewshire, Project SEARCH has provided more than 130 different placements, with each student taking on up to 600 hours of work experience.
More than 60 percent of graduates have secured employment, and more than 80 percent have remained in employment for more than 12 months.
To find out more about Project SEARCH, or to discuss joining our Business Advisory Committee call the team on 0141 618 7296, or visit www.investinrenfrewshire.com