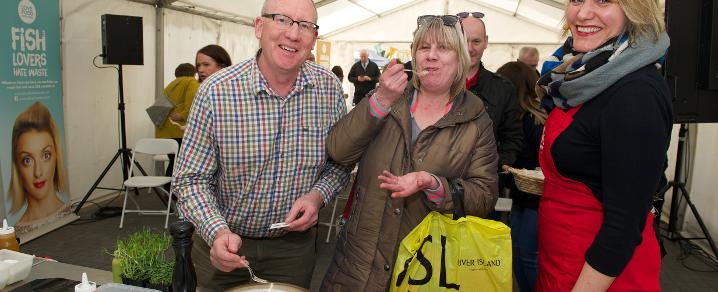 Learn how to Love Food Hate Waste at Paisley Food and Drink Festival 2019
Visitors will be able to learn valuable cooking tips from the professionals to reduce waste and help protect the environment at this year's Paisley Food and Drink Festival.
The festival, which is one of Scotland's largest outdoor food and drink events, will host a range of cookery demonstrations with celebrity chefs in collaboration with Zero Waste Scotland's Love Food Hate Waste campaign, on Saturday 27 April.
Love Food Hate Waste aims to raise awareness of how doing easy, practical things in the home can reduce food waste, save money and benefit the environment.
Top chefs, including Gary Maclean, winner of MasterChef - The Professionals 2016, Matt Pritchard, star of hit MTV series Dirty Sanchez and BBC TV's Dirty Vegan, and baking sensations Three Sisters Bake will teach their tricks of the trade and show how making small changes in the kitchen can have a big impact.
Love Food Hate Waste will be on hand to provide advice at the festival to help prevent good food ending up in the bin.
Ylva Haglund, Food Waste Campaigns Manager, Zero Waste Scotland, said: "A massive £1 billion worth of food is binned from our homes in Scotland every year. Most of this is good food that could have been eaten and enjoyed had it been used up in time. Food waste also contributes more to Scotland's carbon emissions than any other type of waste.
"To make it easier for people at home to tackle this, we've teamed up with leading chefs at this year's Paisley Food and Drink Festival, who will share tips and tricks to show just how simple it can be to save food from the bin."
Ahead of the Festival, Love Food Hate Waste will also work with local community groups, including The Tannahill Centre, ROAR: Connections for Life, Erskine Music and Media Studios, Our Places Our Families and Active Communities, to host a selection of free to attend workshops across Renfrewshire.
The daily two-hour Love Food Hate Waste workshops aim to provide further advice on how to reduce food waste at home and will take place with the following groups:
When do the workshops take place?
The fun, free, interactive sessions which will provide those attending with practical knowledge around simple things people can do to stop wasting food at home and take place with the following community groups:
· Young Mums - The Tannahill Centre - Monday 22 April - 10am - 12pm
· Older Adults - ROAR: Connections for Life - Tuesday 23 April - 2pm - 4pm
· Erskine Community Hub - Erskine Music and Media Studios - Wednesday 24 April - 3pm - 5pm
· Our Places Our Families - Our Places Our Families - Thursday 25 April - 1pm - 3pm
· Feel Good Project - Active Communities - Friday 26 April - 10am - 12pm
Published 18 April 2019