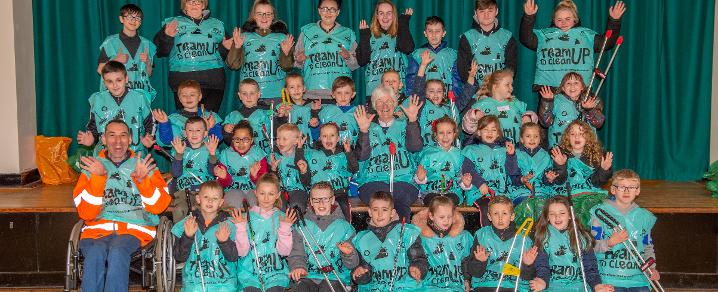 Our Place Our Families lead the way with a Big Spring Clean
Renfrewshire's Big Spring Clean continues to go from strength to strength as another community group took to the streets to show their support.
Volunteers young and old from the Our Place, Our Families community group in Renfrew picked up a litter picker to make a difference to their local area, while spreading the message that littering isn't acceptable.
More than 35 dedicated volunteers tackled the area around Kirklandneuk Community Centre and collected 25 bags of litter in the process.
The group is run by volunteers from the local community to provide low cost family fun days and a wide range of family activities to help bring the local community together.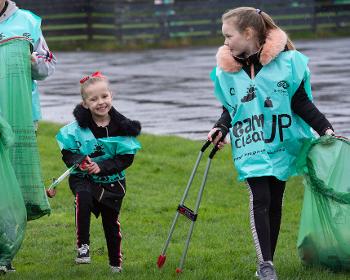 Diane Booth, Project Manager, said: "Our Place Our Families run a sport and play project throughout the main school holidays.
"Within this project, the kids get involved in Team Up to Clean Up where they clean up the local area. Not only does this stop the kids from dropping litter in the community, but it prevents them from sitting about the house on social media and games consoles.
"We hope to continue this for the foreseeable future and believe it can show that, with the help of the community, kids can make a difference."
Renfrewshire's Big Spring Clean, part of the wider Team Up to Clean Up campaign, takes place throughout April and aims to replicate the success of the same event last year which saw more than 1000 volunteers take part over one weekend.
The Our Place, Our Families litter pick was one of more than 50 clean ups arranged so far as community groups, schools and volunteers set out to clean up their neighbourhoods.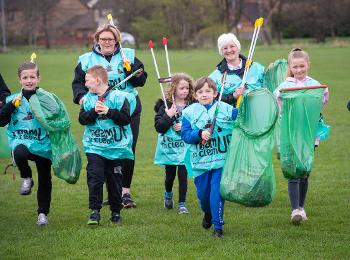 Councillor Cathy McEwan, Convener of Renfrewshire Council's Infrastructure, Land and Environment Policy Board, joined the litter pick and was full of praise for the work to the volunteers.
Councillor McEwan said: "What a fantastic job these volunteers have done to clean up the local area, while also putting forward the message that littering is not acceptable.
"Events like the Big Spring Clean, and our wider Team Up to Clean Up campaign, aim to bring the local community together to make Renfrewshire a cleaner, brighter and more attractive place to live, work and visit.
"It also aims to show those who litter that their fellow community members are taking action to make a difference and we want to reduce the amount of litter dropped in the first place.
"There's still plenty of events left during the Big Spring Clean so please go along to any of them or get in touch and we'll help you arrange your own."
The Team Up to Clean Up campaign has benefitted from a £2.5million investment in Renfrewshire's local environment which has seen an increased programme of road sweeping, drain clearing, litter picking and an enhanced Rapid Response Team.
The investment has also facilitated local communities to undertake litter picks by providing them with gloves, litter pickers, bags and hoops, as well as the support of the council's Wardens Service and StreetScene team who remove the collected rubbish at the end.
You are invited to take part in any of the arranged litter picks and are free to turn up on the day, as well as being able to arrange your own by contacting us directly.
For more information, visit the Big Spring Clean event page or call 0300 300 1375.
Published 4 April 2019.