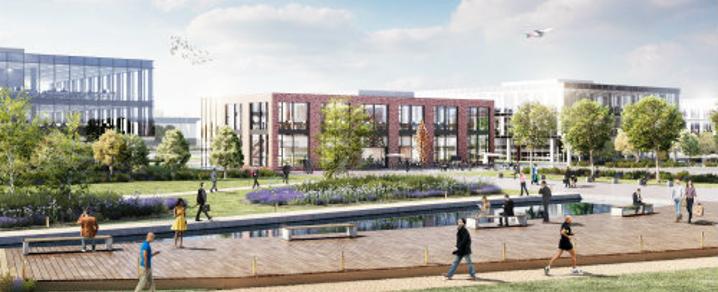 City Deal investment area construction to start in summer
This year is a major milestone for Renfrewshire's City Deal team as construction starts on the Glasgow Airport Investment Area.
Spades should hit the ground by summer on the £39.1million project to deliver the infrastructure and environmental improvements facilitating a world-class business and commercial location in the heart of Renfrewshire.
The 150-acre investment area will be at the centre of the Advanced Manufacturing Innovation District Scotland (AMIDS) and include new infrastructure to improve connections to the nearby Westway, Inchinnan and Airport business parks.
AMIDS will also be home to two new national innovation centres: the National Manufacturing Institute Scotland (NMIS) and the Medicines Manufacturing Innovation Centre (MMIC).
What's being built?
A high-quality entrance into the investment area through re-alignment and upgrading of Abbotsinch Road - including 1620 metres of new road
A two-lane bridge over the White Cart linking the investment area to Westway business park
A 100-metre cycleway and pedestrian bridge spanning the Black Cart
New and improved junctions and connections to existing cycleways and paths
It is one of three Renfrewshire projects which are part of the £1.13billion Glasgow City Region City Deal, creating thousands of new jobs and tackling unemployment; improving connectivity and driving business innovation and growth, generating billions of pounds of private sector investment.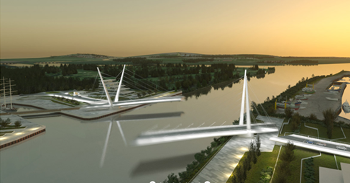 In November 2018, Scottish Government ministers approved another Renfrewshire-led project which will transform the Clyde waterfront.
The Clyde Waterfront and Renfrew Riverside project includes construction of the first opening road bridge over the River Clyde linking Renfrew with Clydebank and Yoker and is expected to create more than 2300 jobs and inject £867million into the regional economy.
Next steps for the project include progressing with the procurement process for the construction contract and assembling the land required. Construction is expected to start in 2020 and be complete in 2022.
Renfrewshire's City Deal team are also working closely with their Glasgow counterparts and with Transport Scotland on the business case for the Glasgow Airport Access Project, recognising the importance of improving transport links to the airport as vital to the continued economic growth of the region.
Published Wednesday 30 January 2019