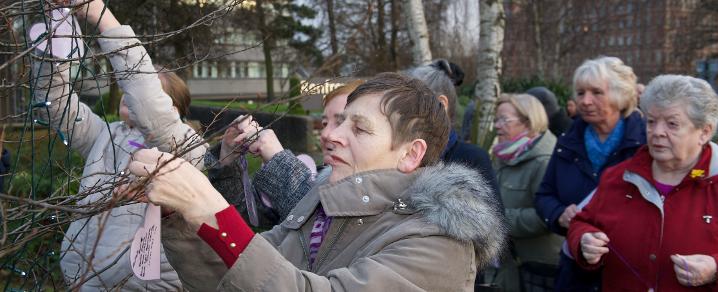 A chance to remember those lost to suicide
Renfrewshire's annual memorial service to commemorate those who have lost their lives to suicide will be held in Paisley later this month.
What can I expect from the service?
Support group Survivors of Bereavement by Suicide (SOBS) will host a short service open to all on Thursday 24 January at Renfrewshire House.
Anyone who has been affected by suicide is invited to meet at the Marriage Suite from 3:15pm to collect a commemorative purple heart on which they can write a message to a loved one, if so desired.
At 3:30pm there will be a short set of readings, followed by a procession to the memorial tree where Renfrewshire's Provost Lorraine Cameron will lay a wreath and light the tree.
Anyone unable to attend the service who wishes a message to be placed onto the tree can get in touch in advance or can visit the council reception at any time following the service to collect a commemorative heart.
After the service, all those in attendance are invited to join the Provost, the local SOBS support group and the Choose Life team for light refreshments in Paisley Abbey.
What is the memorial tree?
The memorial tree was first dedicated in 2010 as a permanent memorial to those who have died through suicide and is believed to have been the first of its kind in Scotland.
The service aims to provide an opportunity to remember those who have been lost while providing an arm of support to the survivors. It is an opportunity to connect with others who have faced similar situations.
Where can I get support?
If you are feeling suicidal, or you know someone that might be then please call one of the helpline numbers: Samaritan's 116 123, Breathing Space 0800 83 85 87, RAMH First Crisis 0141 849 90 90 or 0500 829 093
For more information contact the Choose Life Team on 0141 849 2200 or visit www.renfrewshire.gov.uk/sobs.
Published 4 January 2019.