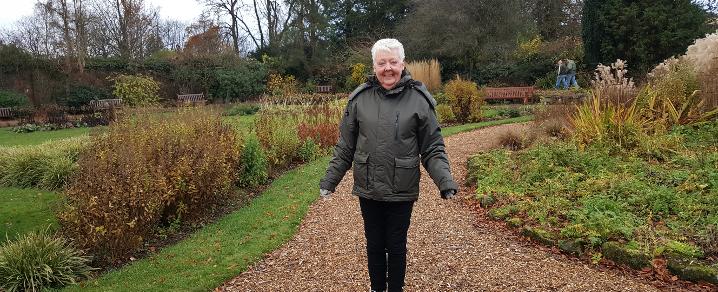 Community Connector helped get Marwyn back on track
Marwyn Doran was referred to RAMH by her GP two years ago after suffering anxiety.
The 68-year-old from Inchinnan said: "I withdrew myself from everything. Your family don't know how to help you and you hide it from people because you feel ashamed.
"I don't tick any boxes because I don't have any addiction or financial issues and I don't have any family worries. There wasn't any real reason for it, it just came. I was at the end of my tether and I was too scared to go out."
Her GP referred her to link worker Irene Brown from RAMH and Marwyn added: "She got me counselling and then they introduced me to different groups, like a relaxation and walking group.
"I've never looked back. We walk round all different places in Paisley and we just walk and talk. It's great because everybody's in the same position as you and you don't feel scared or isolated.
"Ten minutes in the doctor's surgery isn't enough. When you've had a mental health issue, getting back out into the community is really difficult because you isolate yourself."
The Community Connectors programme aims to free up GP's time so they can focus on acute medical conditions.
All 29 GP surgeries in Renfrewshire have signed up to have a 'social prescriber' who works with patients for whom medical intervention isn't necessarily the most appropriate route.
Funded by Renfrewshire's Health and Social Care Partnership (HSCP), the link workers support people experiencing social and financial struggles, as well as housing issues and loneliness and isolation.
They can be referred on to local social and cultural organisations and programmes to get the targeted support they need and to help them feel part of their community.
The project, a partnership between RAMH, which promotes recovery from mental ill health, Linstone Housing Association and voluntary sector organisation, Active Communities, has helped more than 1,000 people since the pilot scheme was set up in October 2016.
Marwyn is now determined to give something back and actually volunteers herself now.
She said: "I volunteer at walking and swimming groups because I feel they were so beneficial for me.
"I don't think I would have been able to do it on my own. It's so important, I think every doctor's surgery should have a Community Connector."
The project has seen around 170 new referrals from GPs in each three month period since its launch and this is expected to rise with all GP practices across Renfrewshire now signed up.
For more information, contact your local health centre.
Published 24 December 2018.