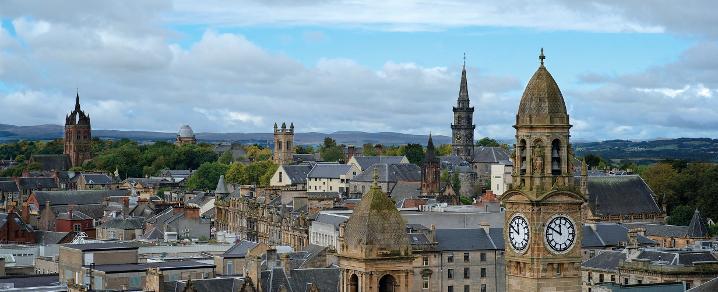 Supporting Renfrewshire's cultural sector
A new three year fund has been launched to support the cultural sector in Renfrewshire, and local cultural and creative organisations are invited to find out more.
The Cultural Organisations Development Fund is one of the legacies of Paisley's UK City of Culture bidding process and will run from 2019 to 2022.
The fund will invest in local organisations and provide support to build the resilience and sustainability of organisations - helping them realise their cultural ambitions and fulfil their potential.
What sort of projects will the Cultural Organisations Development Fund support?
The fund can support a range of activities that support an organisation's development, for example to cover core costs such as staffing, improve governance and management and build new audiences and partnerships across Scotland, the UK and internationally.
Who can apply?
The Fund is reserved for Renfrewshire based organisations or groups either established or developing that have a cultural or creative purpose. The type of organisation is also important -
You can apply if your organisation is or seeks to be a:
Voluntary or community organisation
Registered charity
Constituted group or club
Community interest company (CIC)
Social enterprise
We cannot accept applications from:
Individuals/sole traders
Shareholding organisations that generate private profits
Organisations based outside Renfrewshire
Applications made by one organisation on behalf of another
How is the Cultural Organisations Development Fund, different from the Culture, Heritage and Events Fund?
The Culture, Heritage and Events Fund is designed to support specific events or projects that will increase the number of people in Renfrewshire participating in cultural or creative activity. The Cultural Organisations Development Fund will provide core funding to local organisations to allow them to become more sustainable.
How much can I apply for?
Applicants are encouraged to apply for the amount most appropriate to their organisation's development needs at the point of application. The maximum level of grant for one year's development activity is £40,000, however it is anticipated that the amounts requested and activity timescales will vary between applicants.
Applications are now open with a deadline of Friday 1 March 2019. For more information on advice surgeries and the application process, please visit the dedicated section of the council website - available in the Related Links section of this page.
Published 10 December 2018