MEDIA RELEASE: Celebrating successes of Renfrewshire employees
Interns and entrepreneurs were among the outstanding talent recognised at the 2018 Renfrewshire Employability Awards.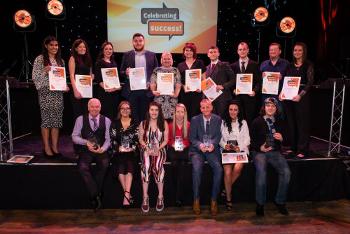 Renfrewshire employers and employability services nominated local people who they've supported through the area's employability programmes and the winners were announced at a glittering reception at Paisley Town Hall this week.
Television and radio presenter Bryan Burnett hosted the night with awards recognising people preparing for work, achieving in work and in-work progression.
They were awarded by employability partners across the region: West College Scotland; Skills Development Scotland; Developing Young Workforce (West); Engage Renfrewshire; Department of Work and Pensions; University of the West of Scotland; Renfrewshire Health and Social Care Partnership and Renfrewshire Chamber of Commerce
From the impressive list of finalists, nine winners were announced:
Most Promising New Employee: Christopher Morris
Most Promising New Entrepreneur: Bobby Quinn
Top Intern: Rachael Gray
Best Trainee: Toni Elliot
CV Builder (Youth): Emma Gormley
CV Builder (Adult): Lindsay Murray
Apprentice of the Year: Rachael McGregor
Progression in Work: Ronnie Lockhart
Achiever of the Year: Amy Orr
More than 1000 local businesses support the Council's Invest in Renfrewshire programme which is based at the Russell Institute building on Causeyside Street, Paisley. It helps 1400 people each year, providing direct access to vacancies, work experience, training, personal support and finance.
The night concluded with Special Recognition awards for local businesses who have gone the extra mile in helping people prepare and progress in work. These awards went to Glencoats Afterschool Care, Wholesale Domestic Equipment Company Ltd and Linstone Housing Association.
Renfrewshire Council Depute Leader Jim Paterson said: "These awards are always a proud occasion celebrating the outstanding successes of the people seizing the opportunities Renfrewshire's employability programmes have given them.
"It is also a chance to give thanks to all the partner agencies and local businesses who are working collaboratively to deliver results. Together, our economy is growing and our employment levels now rank among the highest in Scotland.
"We are determined to build on this platform and this year committed five years of funding to further this, with support targeted to reach the people and the places who need it most."
The awards are organised by Invest in Renfrewshire on behalf of the Renfrewshire Employability Partnership and the 2018 awards were sponsored by RAMH, Renfrewshire Chamber of Commerce; Skills Development Scotland and Linstone Housing.
Find out more about employability programmes in Renfrewshire at: www.investinrenfrewshire.com
Full list of 2018 Employability Awards finalists:
Most Promising New Employee: Chris Cummings (Linstone Housing Association); Christopher Morris (YMCA); Jordan McWilliam (DM8 Signs)
Most Promising New Entrepreneur: Bobby Quinn (Base Muay Thai Fitness Gym); Caroline Gormley (Made in Paisley); Laura Connor (Soaps by Laura)
Top Intern: Amna Lateef (Renfrewshire Council); Cameron Kelly (Renfrewshire Council); Rachael Gray (Linstone Housing Association)
Best Trainee: Amy McSloy (Renfrewshire Council); Euan Kilcullen (Renfrewshire Council); Toni Elliot (Barnardos)
CV Builder (Youth): Caitlin Parry (Castlehead High School); Emma Gormley (Paisley Grammar); Michael Higgins (Linwood High School)
CV Builder (Adult): Lindsay Murray (Home-Start Renfrewshire and Inverclyde); Lucia Nimmo (Impact Arts); Maryann Wright (The Tannahill Centre)
Apprentice of the Year: Heather Mills (Renfrewshire Council); Jack Bain (Renfrewshire Council); Rachael McGregor (Scotia Handling Services Ltd)
Progression in Work: Caitlyn McLearie (Ralston Out of School Care); Cameron Esplin (McTaggart Construction); Ronnie Lockhart (Tivoli / Linstone Housing Association)
Achiever of the Year: Amy Orr (Hunterhill Care Home); James Kelly (STAR Project); Ronnie Lockhart (Tivoli / Linstone Housing Association)
Published on Wednesday 21 November