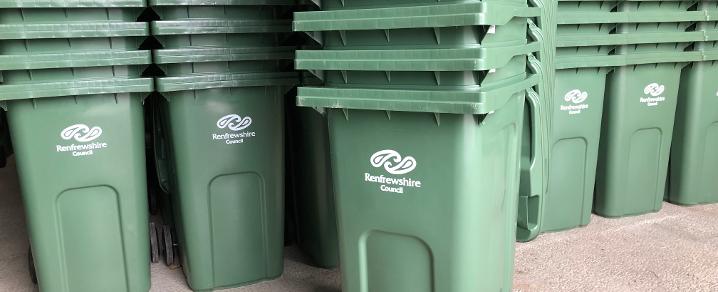 Your new recycling bin is on its way
New green recycling bins are set to roll out across Renfrewshire from today as your bin collection service gets set to change.
The new bins will be delivered over a three-week period so don't worry if you don't receive it straight away.
You should start to use the new bin as soon as it arrives for your plastics, cans and glass, with your blue bin now being for paper, card and cardboard only.
The first collections for the new service will begin on 3 December.
You'll also be receiving an information pack through your letterbox which will show exactly what the changes mean for you.
The pack will provide clear guidance on what should go in which bin, a full calendar of when each bin should go out and details on any change to your collection day.
If you've not received this when your bin arrives, let us know.
The new service is part of a drive to improve recycling in Renfrewshire and reduce the costs associated with disposing of general waste.
We're here to support residents with the new service so if you have any questions then please get in touch.
For more information and a full list of FAQs, visit the My Bins section of the website or email mybins@renfrewshire.gov.uk.