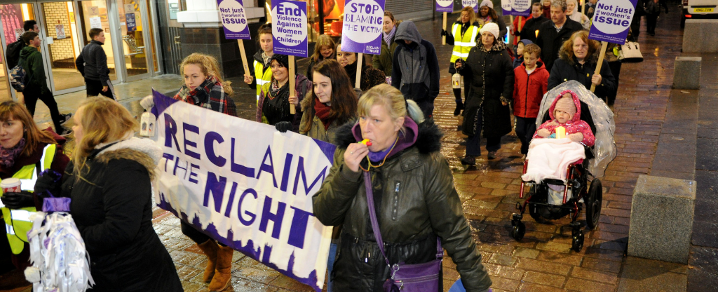 Two public events tackling violence against women and anti-feminism
Renfrewshire will hold two important events held in support of the United Nation's 16 Days of Action for the Elimination of Violence Against Women campaign.
Both events seek to raise awareness of violence against women within the UK and are open to everyone.
This year's event are also supporting the Year of Young People 2018.
Reclaim The Night March
Tuesday 27 November
Starts 6pm from University of the West of Scotland main reception on High Street, Paisley.
Starting with a march down Paisley's High Street, there will be a stop at Dunn Square to lay a white ribbon wreath and hold a two-minute silence in memory of those affected by domestic and sexual abuse. After that, refreshments will take place in Paisley Town Hall with youth activities available from StreetStuff.
BYOB - Bring Your Own Bra
Thursday 6 December
Normandy Hotel, Renfrew
This community conference will discuss why feminism has become a bad word and will look at violence and abuse, period poverty and equal rights.
You will also be asked to get creativity and bring any kind of artwork incorporating a bra (or bras) and bring along a bra to donate to charity Smalls for All.
Published Monday 12 November 2018