Event cancelled - Paisley Fireworks Spectacular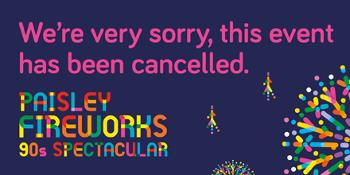 Event cancelled - Paisley Fireworks Spectacular
We are really sorry to let you know that we are cancelling Saturday's Fireworks event in Paisley. This is due to severe wind gusts and rain forecast for tomorrow and the rest of the weekend, which make it impossible for us to deliver the event safely.
We have been monitoring the situation closely and have taken the advice from our display contractor, health and safety and the event advisory group. Paisley Fireworks is one of the highlights of our event year and we know lots of people will be very disappointed.
We want to give local people and all of our supporters as much time as possible to change their plans and we hope to see everyone back in Paisley on Saturday the 17th for our fabulous Christmas Light Switch On. Please take care if you are out and about this weekend.

More information
What will happen with the road closures?
All planned road closures will be lifted and there will be no road closures in place. There is a weather warning in place for rain so please be careful when driving.
When was the last time it was cancelled?
We cancelled the show in 2014 because of wind direction - we have to make sure we protect private properties and our lovely Abbey and Townhall.
Will the event be rescheduled?
There is no plan to reschedule at this time, but we look forward to welcoming everyone to our Christmas Lights Switch On in Paisley on Saturday 17 November.
Could paisley not do a Christmas light switch on and firework display on the 17th?
This might be a possibility in future years, but our plans for Christmas lights are already in place. We are really sorry everyone is missing out on Fireworks
Why can't you have it on Sunday night instead?
Unfortunately the forecast for Sunday is still a cause for concern, but we hope you will be able to come along for Christmas lights on the 17th.
What happens to people who had guest access for Fireworks?
New wristbands will be given out for our Christmas Lights Switch On. Please email the events team if you have any questions and they will be happy to help you events@renfrewshire.gov.uk