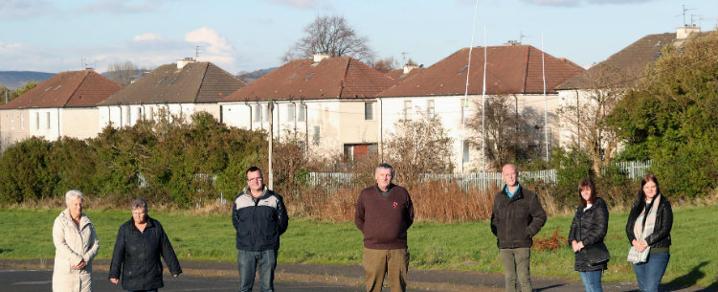 New Tannahill homes are just the start for Ferguslie Park
"I'm looking forward to having a new house and the first thing I'll do is put the kettle on, make a cup of tea and have a natter with my neighbour."
Betty Docherty has lived in the Tannahill area of Ferguslie Park for 23 years and is pleased by the news around 100 new Council homes are to be built here after plans were confirmed for a £14million newbuild development.
Construction of the new homes is expected to start in 2020, with funding from Renfrewshire Council and the Scottish Government.
There will a range of different homes, designed and built to meet the needs of existing tenants and considering future needs.
Tannahill Council tenants and home owners gave their thoughts on the proposals last month, with 94% of Council tenants who responded signalling their backing for the plans.
Christine Reilly, Chair of Ferguslie Park North Tenants and Residents Association, said: "This investment is very important as housing here has been sub-standard for a number of years and with many empty properties.
"It's really important to the people here that they can stay in the area where they have been brought up and have spent most their lives, so knowing they will be able to stay until the new houses are built - I support that 100 percent and look forward to continued consultation with tenants and residents."
Housing staff are contacting to residents in the Tannahill area and holding one-to-one meetings to discuss the development in more detail and outline all available options for both tenants and owners.
And the housing team is also preparing a development framework for the wider area in consultation with the local community, considering all options to secure long-term regeneration objectives.
John McIntyre, Chair of Ferguslie Community Council said: "These new homes will breathe new life into Tannahill and give people high quality houses they can be proud of. There is a close-knit community here and I'm pleased that the council recognise this and are doing everything they can to keep that community together.
"It's pleasing to see that this is just the start of the housing investment here and we will be encouraging the local community to get involved and help shape the future for Ferguslie Park."
As Betty's neighbour Sarah Lappin says: "There's good people here and I like living in Tannahill, but there's a lot of empty homes and some of the houses are in a bad way so it'll be a massive step forward."
Published on Thursday 1 November 2018