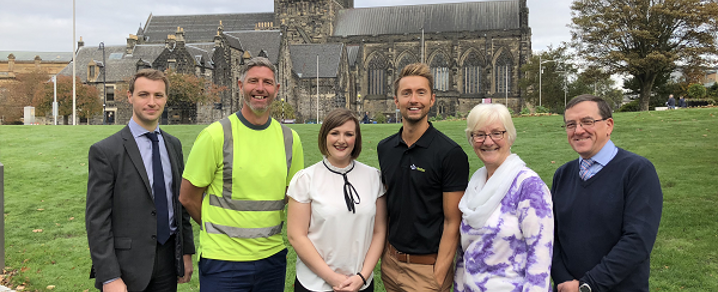 Brrrrriliant names set to battle it out to be named as one of Renfrewshire's gritters
The names are in and the battle is set to commence as Renfrewshire names the nine gritters set to keep the area moving this winter.
The public now have the opportunity to choose their winners from suggestions such as Ploughlo Grittini, William Wall-ice and Thawin' Batty, as a series of polls take place on the council's Twitter channel @RenCouncilNews.
From Monday 22 October, at least one poll per day will go out with three names to choose from and the one with the most votes will be crowned the winner.
More than 1600 suggestions were put forward to the #NameOurGritters competition before the expert judging panel, including STV weatherman Sean Batty, finalised the shortlist.
Sean said: "It was great fun looking through the blizzard of name suggestions for the new fleet of gritters and I was flattered that there had been a few suggestions using my name.
"It was a tough call on many of them but we eventually narrowed it down to the finalists.
"I'm really looking forward to next week when the names go back out to the public vote and we'll finally know the names of the family that'll be working hard throughout the winter to keep our roads clear."
Sean was joined on the panel by local gritter driver Eric Phillips, Care at Home worker Fraser Chittick and Joe Graham who leads HEART, a group of community volunteers who clear paths, grit residential streets and visit elderly residents during any severe weather.
Councillors Cathy McEwan and Natalie Don, Convener and Depute Convener of Renfrewshire Council's Infrastructure, Land and Environment Policy Board, were also on the panel alongside the Director of the service, Gordon McNeil.
The #RenReady campaign aims to prepare Renfrewshire and its residents for winter weather and the dangers it can bring.
Information on how to prepare your home, your business, your community and more is available on the council website and helpful tips will be provided via the council's social media throughout winter.
For more information on the competition, and for guidance on how to stay #RenReady this winter, visit our Ready for Winter pages.
Published 18 October 2018.