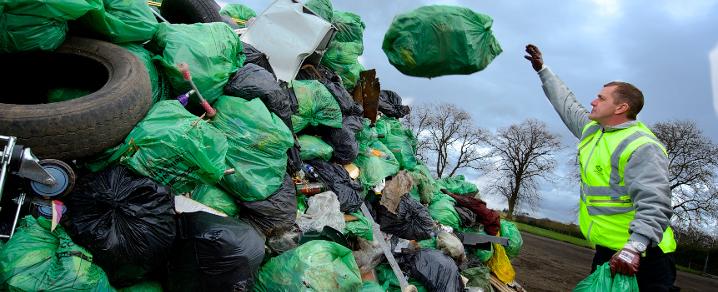 Will you take up the challenge to make it a Spotless September in Renfrewshire?
Communities across Renfrewshire are joining forces this weekend (28-30 Sep) as part of the Spotless September Challenge.
Schools, community groups, businesses and volunteers will be donning their bibs, grabbing their litter pickers and heading out onto the streets of Renfrewshire to make a difference- and we want you to join them!
More than 20 litter picks are scheduled to take place across the weekend, with numerous other groups heading out already this week to ensure they still do their bit for the Team Up to Clean Up campaign.
The community clean-ups have been arranged by local people and new volunteers are encouraged to join in at any of the events taking place across Renfrewshire.
Every litter pick is supported by Renfrewshire Council's Community Wardens who offer advice and deliver the equipment, as well as the StreetScene team who will remove the collected litter after the event - so all you need to do is donate your time.
Whether it's five minutes, an hour or a full afternoon, it all makes a difference to the cleanliness of our streets.
The events are open to all and the volunteers are always delighted to meet another enthusiastic volunteer.
A full list of the clean ups is attached to this page, please feel free to go along one to any (or all!) of the planned clean ups this weekend.
A special, free, thank you event is also being hosted on Sunday 30 September, 2:30pm-5.30pm, at Paisley Town Hall to thank everyone that has taken part over the weekend, and the campaign as a whole, since it began almost a year ago.
Anyone who has taken part, however small, is invited along for food, chat and a chance to meet like-minded people as the campaign takes a look back at what has been achieved so far.
Let's Team Up to Clean Up together!
Published 27 September 2018.