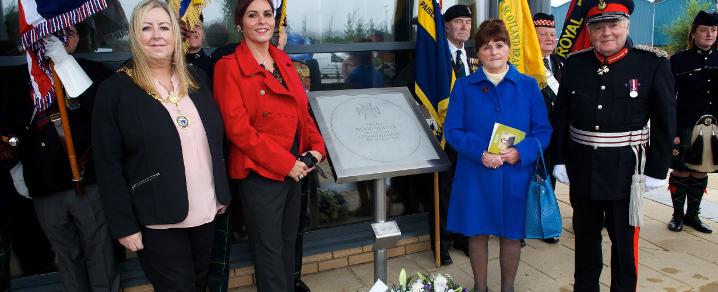 MEDIA RELEASE: Renfrewshire honours recipient of the Victoria Cross
A Linwood-born solider who is one of only two soldiers from Renfrewshire to be awarded the Victoria Cross (VC) during the First World War has been honoured in a special ceremony in Renfrewshire today (Thursday).
Private Hugh McIver VC, MM and Bar was awarded the VC for his efforts in single-handedly killing six enemy soldiers and capturing 20 more, allowing his unit to continue its advance.
He later risked his life to stop a British tank which had mistakenly opened fire on British soldiers.
A commemorative stone was unveiled outside the Tweedie Hall in Linwood and is the first event in Renfrewshire to mark the countdown of 100 to 100 - 100 days until the anniversary of the end of the First World War.
A short service was led by Renfrewshire's Provost Lorraine Cameron who joined Colonel Martin Gibson OBE DL of The Royal Scots Museum; Colonel Sergeant Macrae, 1st Battalion The Royal Regiment of Scotland; Stu Colquhoun of the Royal Scots Regimental Association and representatives from Private McIver's family in giving a short speech and laying a ceremonial wreath to mark the unveiling.
Provost Cameron said: "Hugh McIver demonstrated great bravery and devotion to duty while he served for our country during World War 1.
"He battled through the most difficult of adversity to ensure the safety of his fellow soldiers and fully deserves our recognition.
"The commemorative stone will ensure soldiers like Hugh are always remembered."
Private McIver was born in 1890 in Linwood and enlisted in the Royal Scots, the oldest infantry regiment of the line in the British Army.
His heroic deed of bravery took place on 23 August 1918 near Courcelle-le Compte in France and he now lies in Vraucourt Copse Cemetery.
Colonel Martin Gibson, of The Royal Scots Museum said: "Our Regiment is immensely proud of Private Hugh McIver who was a real soldier's soldier.
"Private Hugh McIver was killed in action just a few days after his courageous deed and his bravery is a splendid example to all who have served and will serve in the future.
"We are very grateful to Renfrewshire Council and Provost Cameron for this special centenary event as the nation prepares to commemorate Armistice Day."
Private Hugh McIver's medals, including the VC, MM and Bar, are now held by the Royal Scots Greys Museum in Edinburgh Castle.