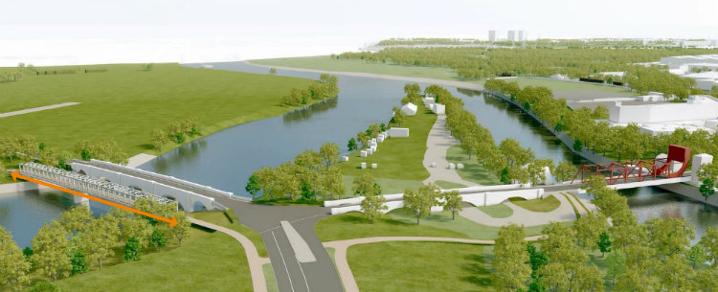 Green light for bridge into investment area
A purpose-built pedestrian bridge and cycleway will connect people to a major investment area being developed next to Glasgow Airport.
Councillors have now given the green light to construction of the new bridge over the Black Cart at the south end of Greenock Road, providing a safe route for cyclists and pedestrians to cross the busy junction with Inchinnan Road.
The crossing is one of a series of infrastructure improvements as part of the £39.1million Glasgow Airport Investment Area project, funded through the Glasgow City Region City Deal.
What is the Glasgow Airport Investment Area project?
Glasgow Airport Investment Area is delivering the infrastructure and environmental improvements underpinning a new 150-acre investment area.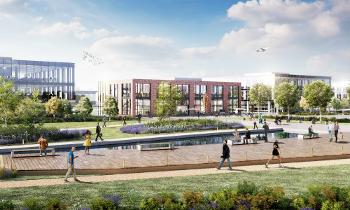 Planning consent has already been granted for the realignment of Abbotsinch Road and a new link bridge being built over the White Cart.
Public feedback signalled strong support for the Glasgow Airport Investment Area, with 94 per cent backing the plans during extensive engagement over the last two years.
Two national innovation centres have already been confirmed at the new site, the £65million National Manufacturing Institute for Scotland and the £56million Medicines Manufacturing Innovation Centre, which will be at the heart of an emerging manufacturing district.
It is anticipated the district will create thousands of new permanent jobs and 365 jobs are required during the construction of the City Deal-funded roads, bridges and cycle routes, which is expected to be completed by 2020.
It is one of three projects in Renfrewshire funded through the £1.13billion Glasgow City Region City Deal, an agreement between the UK Government, Scottish Government and eight local authorities across the Glasgow City Region to deliver improved infrastructure, create new jobs, tackle unemployment and drive innovation and growth.
Project details
A high-quality boulevard into the investment area through re-alignment and upgrading of Abbotsinch Road - including 1620 metres of new road
A two-lane bridge over the White Cart linking the investment area to Westway business park
A cycleway and pedestrian bridge spanning the Black Cart
All routes enhanced by pedestrian walkways and cycle lanes
New and improved junctions and connections to existing cycleways and paths