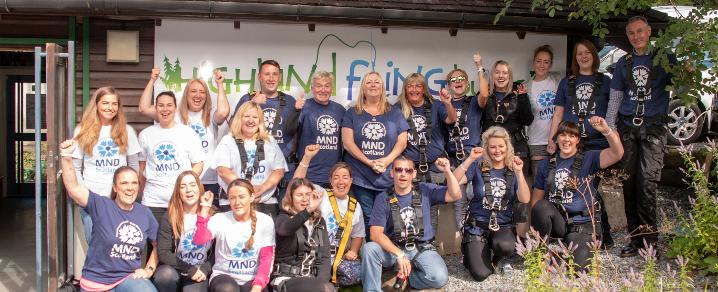 Your donations make a difference
It's one week since my Highland Fling Swing fundraising challenge and I'm still feeling the excitement!
I am so proud of all our amazing fundraisers who experienced a 15-metre free fall from the Garry Bridge in Killiecrankie before swinging under the bridge to take in the incredible scenery.
It was a brilliant day from start to finish and I'm sure that all our daredevil fundraisers enjoyed themselves too - at least once the swing was over!
All the money raised from the challenge is donated to MND Scotland, who earlier this month announced the launch of the first Motor Neurone Disease (MND) clinical drug trial in Scotland, in over 20 years.
MND Scotland is investing over £52,000 into the MIROCALS study which will cover the costs of lumbar puncture procedures, biobanking costs and contribute towards a neurology research fellow, all of which needed to be in place before this could come to Scotland.
This funding is part of a total commitment of over £1.5 million into clinical drugs trials being made by MND Scotland.
This is an historic moment in our fightback against Motor Neurone Disease in Scotland, and the start of something incredible - the new phase of Scotland's MND research revolution.
Exciting developments like this can only happen thanks to our support.
Don't worry if you missed out this time or if challenges just aren't your thing. You can also support their social media campaigns, join their support groups, and volunteer to help at events, become a member or share your story of motor neurone disease.
Thanks to everyone who has supported the cause this year! As you can see, your donations really do make a difference.
Lorraine
Published 17 August 2018