Communities will be equipped for clean ups thanks to Gail
Senior Community Warden Gail Scoular isn't one for doing things by halves.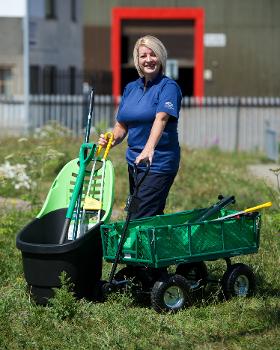 So when Renfrewshire Council launched their flagship Team Up to Clean Up campaign, she immediately set her sights high on bringing the community together and making Renfrewshire a more attractive place to live, work and visit.
Taking advantage of the Council's intrapreneur programme The Lens, Gail pitched her idea for the creation of community caddies which will give residents the tools to carry out clean ups across Renfrewshire - be it a litter pick, hedge cutting or trimming trees.
She won £12,000 in funding to create 25 of the caddies which will be stocked with litter pickers, shears, rakes and other tools, and given to community groups across the area to carry out activities which relate to the Team Up to Clean Up campaign.
Gail said: "I've been cleaning up my community as a volunteer for years but I didn't have the tools to do as much as I would have liked.
"I'm proud of where I stay and I noticed areas were overgrown where council machines couldn't always fit in the nooks and crannies so I thought if I could do some basic maintenance to make the place a little nicer, people would respect the area a bit more."
£2.5million has been allocated to the Team Up to Clean Up campaign over the next five years to make a real difference to the cleanliness of the area, as well as engaging the community to take pride in where they live.
Gail added: "I want to bring my children up with the outlook that we are responsible for the communities in which we live so I believe we have a duty to keep it clean and provide our kids with a safe environment to play in.
"We need to keep the momentum of the campaign going, getting as many of the groups who are already involved to continue. Hopefully these caddies will make a difference and encourage others to get involved too."
The Lens project encourages employees to pitch ideas for Council funding that, using their experience, they believe would make a real benefit to the local area, with fellow employees forming the judging panel to choose the winning projects from the shortlist.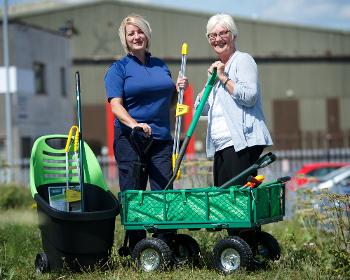 Councillor Cathy McEwan, Convener of Renfrewshire Council's Infrastructure, Land and Environment Policy Board, said: "Gail is going above and beyond the call of duty as part of the Team Up to Clean Up campaign and she embodies everything that we are looking for in a community champion.
"Building on her own volunteering experiences, she has solved an issue which will be affecting lots of like-minded volunteers across Renfrewshire and will help people do their bit for their community more easily.
"By providing communities with the tools to undertake their own clean ups, they can take more control of the appearance of their local area while still knowing they have our support where they need it.
"We're determined to continue the success of this campaign and with volunteers such as Gail driving it forward, I know we won't go far wrong!"
The new community caddies will be available later in the year and will be allocated to community groups who can demonstrate they will be able to use them safely and effectively for the benefit of the community.
For more information on the Team Up to Clean Up campaign, use the links attached to this page.
Published 27 July 2018.