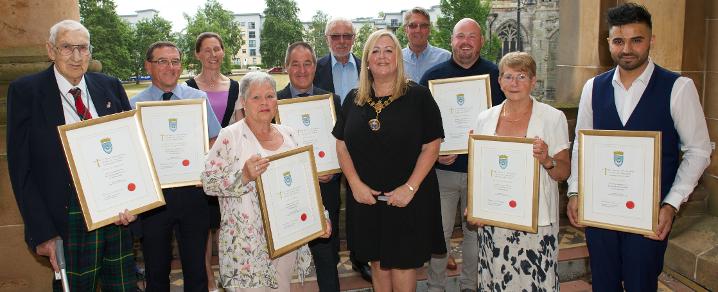 Recognising our local heroes
Last week I was honoured to reward eight local inspiring members of our community with a Provost's Distinction Certificate.
This is one of the most satisfying parts of my role at Provost and I love being able to recognise those who are making a real difference in their communities.
From married couple Anne and John Bellshaw who have raised over £132,000 for MND Scotland and ACCORD Hospice, to local community shop owner Rekz, and a team of volunteers who helped their community during the severe weather earlier this year, each one of the recipients is deserving of the accolade for the positive work they do.
Early next year we will also have the Provost's Community Awards where community members can be rewarded in a variety of categories.
Nominations can be made for everyone who lives or works in Renfrewshire and the nomination period will open later in the year.
The Distinction Certificate Award winners are:
Anne and John Bellshaw - What started as a one-off charity event in memory of Anne's brother has turned into 22 years of daredevil challenges, race nights and raffles. Fundraising for MND Scotland and ACCORD Hospice, and with the support of family and friends, they have raised more than £132,000 for these two great causes.
Peter Stewart - A youthful 91 years old Peter is still raising money for charity, culminating in his latest exploit, a 165ft abseil off the Forth Road Bridge. Following the loss of his wife, Peter has dedicated himself to a variety of different causes and challenges to make a difference to the lives of others.
Stephen Torrance - A long-time supporter of the Choose Life and SOBS group in Renfrewshire, Stephen has fundraised in the memory of his brother Vinny who took his own life in 2009. Hosting an annual golf tournament, Stephen has managed to raise not only money but much-needed awareness of the issue of male suicide.
Howwood Emergency Amateur Response Team (HEART) - This inspiring group of volunteers worked diligently within the local Howwood community during the severe weather earlier this year. They cleared local roads, visited elderly neighbours to ensure they were safe and well and ensured local school routes were safe for parents and children.
Rekz Afzal - A well-known community figure, Rekz has created a community fridge which allows people to buy essentials for those who may be in need. He has also organised local music events with the proceeds going to the One Giant Leap programme which supports young adults with disabilities through music and art.
Brian McClure - Taxi driver Brian has been honoured for his quick thinking that saved the life of a elderly woman. Spotting that a car had crashed into a stationary car, Brian performed emergency CPR on the driver who had suffered a heart attack which helped save her life.
Margaret Beacom - A true community hero, Margaret has been looking after her neighbour through a long-term illness to ensure they are coping, have the essentials in the fridge and are able to make all appointments they need to, which has gone a long way to improving their quality of life.
Well done to all.
Lorraine
Published 20 July 2018