Everything's coming up roses for Paisley Flower Club
Over the last year I've had the pleasure of meeting many local people and groups who are doing many interesting and exciting things around Renfrewshire. There's always something new to learn about our community.
Last week I was pleased to meet a member of Paisley Flower Club who are celebrating their Diamond Anniversary this year. The aim of the group is to teach its members the techniques of artistic flower arranging and to encourage the appreciation and care of flowers.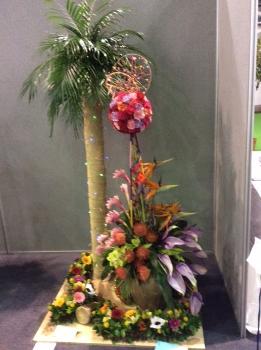 They have recently won a Silver award in the Floral Art category at Gardening Scotland for an amazing display themed around the country of Brazil. Their piece depicted the Rio Carnival and featured exotic flowers and colours.
As well as entering national competitions, the group also get involved locally. On the first Friday of May they leave bouquets around Paisley for people to take home, and have even decorated Renfrewshire House for National Flower Arranging Day!
The group meet monthly and each session involves a demonstrator making flower arrangements around a set theme - sounds very therapeutic!
Their work is gorgeous and I look forward to seeing more from them during the rest of my time as Provost.
For more information about joining the club, visit http://www.safas.org.uk/Paisley/index.shtml
Lorraine
Published 06 July 2018