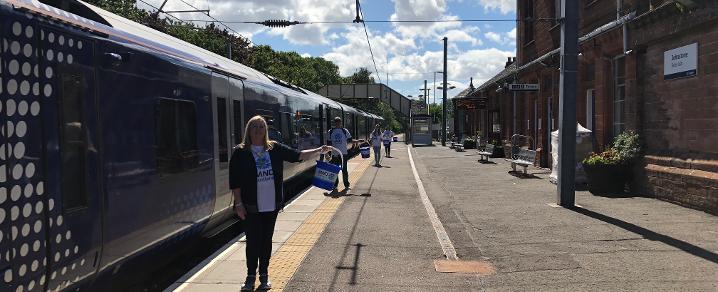 Touring Renfrewshire for MND Awareness Week
This week I took to the trains as part of my campaign to raise awareness of Motor Neurone Disease.
On Thursday, Global MND Awareness Day, I travelled around Renfrewshire visiting many local communities and helping to raise awareness of this serious condition. Thank you to our friends at Scotrail who were very accommodating and allowed me in to their stations and on the trains with my fundraising bucket!
I even got to serve behind the ticket desk at Johnstone Train Station and had great fun talking to all the customers about MND Scotland.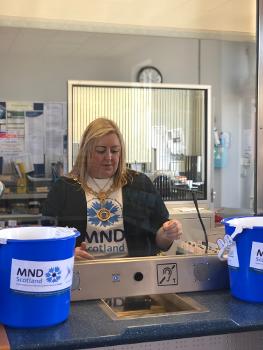 I was surprised by how many people wanted to tell me their own personal connections with MND and I was touched that people chose to share their experiences and memories.
MND Scotland is a charity extremely close to my heart, I lost my mum to the illness in 2011, and I am proud that I can support them in my role as Provost.
On Wednesday I attended a reception at the Scottish Parliament for MND Awareness Week and met many people whose lives have been changed by MND in one way or another.
Local resident Owen McGhee, from Bridge of Weir, is one such person who has been living with MND for 20 years - defying all the odds. He has a great outlook on life and is an inspiration in our local community.
I will be continuing to raise funds and awareness for MND Scotland throughout 2018 and you can get involved too. In August we will be taking part in the "Highland Fling Swing" and there's still time to sign up. Find out more information by emailing civicevents@renfrewshire.gov.uk
Lorraine
Published 22 June 2018