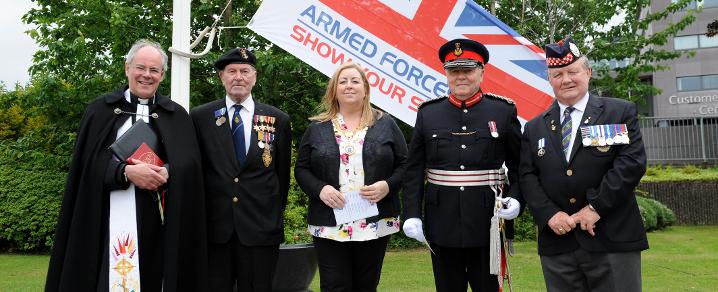 Recognising the work of our Armed Forces
In just four weeks' time we will be gathering to celebrate Armed Forces Day.
Armed Forces Day is traditionally celebrated on the last Saturday in June but we hold our Renfrewshire celebrations a week earlier to allow people to attend both a local and national service.
It's important to show our support for the serving men and women in our communities, our veteran community and their families, and recognise the sacrifices made for the safety of our country.
Last year I was honoured to attend the service in one of my first engagements as Provost of Renfrewshire and I look forward to continuing to support the work of our Armed Forces year on year.
The flag raising service will take place this year on Friday 22 June outside Renfrewshire House at 11am.
I'm delighted that we will have an RAF Air Cadet raise the Armed Forces Flag and it is particularly fitting this year as 2018 is the Year of Young People as well as the Centenary of the Royal Air Force (RAF).
The following day, Saturday 23 June we will have our annual service in Paisley Abbey, held jointly with Inverclyde Council.
This is always a moving event and I am honoured to have been asked to do the reading at the service this year.
Our supported charity for Armed Forces Day 2018 is Fares4Free - a charity that encourages taxi drivers to give up to four of their fares every month to help veterans, enabling them to attend appointments they may otherwise miss without someone to accompany them.
I was fortunate enough to spend some time with the charity last year and feel they do inspiring work in our communities, with many of the vehicles being staffed by ex-service personnel.
Meeting the veterans in our community and hearing their stories is always an emotional experience and I am proud that we hold these commemorations each year in Renfrewshire to support our Armed Forces.
I hope you will join me this year to recognise the sacrifices made by our Armed Forces to ensure we can live our lives in peace.
Lorraine
Published 25 May 2018