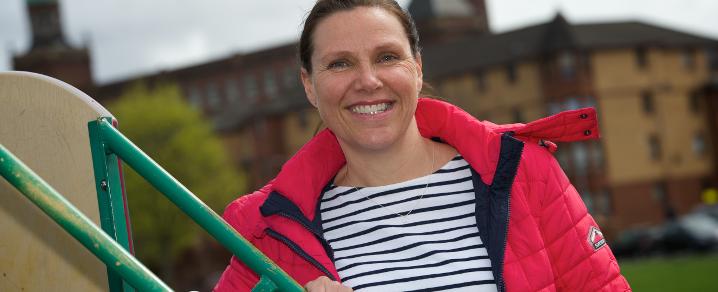 Nicola makes caring a family affair
Nicola Hanvey started fostering when she was still working full time at a local authority to see how it fitted in with family life.
The 46-year-old and her husband Fraser followed in the footsteps of his parents,who were also foster carers
Nicola said: "He had been brought up as part of a foster family and we were always keen at some point to get involved. My background was working with young people and families so I had an interest in fostering."
She and policeman Fraser started by fostering teenagers when their own three children, now aged 20, 18 and 15 and still at home, were younger.
She added: "As our children got a bit older we felt that that age didn't really fit very well with our family and we moved to Renfrewshire Council seven years ago.
"We've cared for twelve foster children and at the moment we are caring for two.
"When we started our eldest child struggled the most because she doesn't like change. You had no idea when a child came how long they would be with you for.
"My other two were probably more relaxed and overall, it's been positive. As much as possible we've been quite clear that we're a foster family and if at any point this wasn't working for any one of us, then that would be discussed."
Nicola, who is based in Kilmarnock, says the rewards are feeling you are making a huge difference to a child's life.
She said: "We've had quite a few babies who you will nurture and see them develop into wee people. It's great to see them move on, either going back home, or go onto be adopted .
"To see them settled means you've done your job and there's been a really positive outcome.
"It's also rewarding when children initially come in with challenging behaviour and a lack of boundaries and then you see them settle down.
"I also like working from home and as part of a team. I get involved in any training opportunities I can and I attend the support group for foster carers. We meet once a month and it's important to get that support from people who understand the job."
Foster carers can be in work or unemployed, be single, married or in in a same sex or heterosexual relationship and can own or rent the property they live in.
As well as training and support, carers receive a generous allowance.
Anyone interested in more detail can call the team at Renfrewshire Council on 0300 300 1199 or email at childrenandfamilies@renfrewshire.gov.uk
Ends
Article published 18 May, 2018