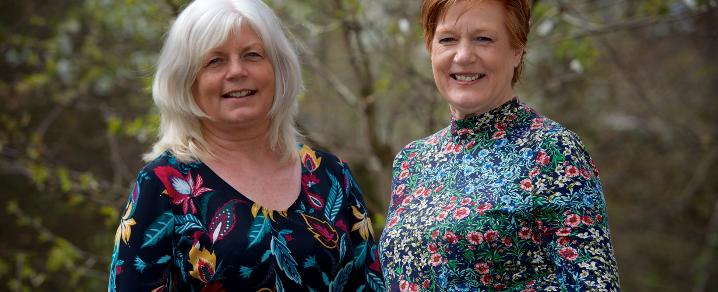 Foster care is a sister act for Anne and Sheila
Sheila Cairney and her sister Anne Hill, who share a home in Ardrossan, started fostering in May last year.
Sheila, who has two step-grandchildren through her son's marriage, said: "It's a busy life but we love it.
"One of our first placements was siblings aged two and one."
Sheila says it's important to be able to build relationships with the children's biological parents if they have contact and added: "You've got their children and they all react differently.
"But it's very rewarding - it's all the little things, like when you see them in their bed sleeping after a busy day.
"Just seeing them happy is so rewarding."
The sisters looked after a child whose dad was in hospital and who refused to let go of his only torn picture of him.
Sheila added: "We got the picture laminated and he thought this was fantastic and took it to bed with him every night."
The sisters have had 24 children since last May, including the same child twice and Sheila added: "I would say to anyone considering fostering to go for it. The only downside is I have an ironing pile like Mount Vesuvius, especially when we are caring for babies.
"When you see a child sit up for the first time or learning to crawl you don't want to miss any of it.
"It can be tiring but my sister and I are like a tag team and can't imagine doing anything else now."
Foster carers can be in work or unemployed, be single, married or in in a same sex or heterosexual relationship and can own or rent the property they live in.
As well as training and support, carers receive a generous allowance.
Anyone interested in more detail can call the team at Renfrewshire Council on 0300 300 1199 or email at childrenandfamilies@renfrewshire.gov.uk
Article published 18 May, 2018