Husband and wife foster care team say it's the best thing they've ever done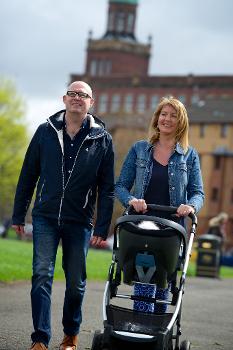 As the Council puts out a call for more foster carers to help reach a tally of 100, husband and wife team Graeme and Shona Small tell their story.
The couple moved into foster care from running their own child minding business from home. Graeme says that something as simple as teaching a child how to swim or introducing them to a new experience is what makes the role so rewarding.
He said: "It's actually made us all feel humble at times. If you're a foster carer you are doing it for the children and to try and make a difference in their life. To me there aren't any real negatives.
"We have a wall in the house with photos of all the children we've looked after and every one of them has a smile from ear to ear."We love it and it's the most rewarding thing I've ever done. I know if I pass away tomorrow I've done a good thing with my life."
Shona said: "I love kids and love thinking I'm playing a part in shaping the next generation. "They keep me young and focused and it's nice to be able to offer nurture, care and security.
"It's very much a give and take and the kids probably don't realise they are giving quite as much as they do.
"It's the best thing I've ever done and the fact that we work together means we can support and understand each other better. Our own kids are also very welcoming and good at sharing mum and dad. It's a whole family approach and brings out the best in us."
Foster carers can be in work or unemployed, be single, married or in in a same sex or heterosexual relationship and can own or rent the property they live in.
As well as training and support, carers receive a generous allowance.
Anyone interested in more detail can call the team at Renfrewshire Council on 0300 300 1199 or email at childrenandfamilies@renfrewshire.gov.uk
Ends
Article published 16 May, 2017