The Saints are on their way
Well it may have taken a game or two more than we would have hoped, but St Mirren made it over the line and sealed promotion to Scotland's top league last weekend.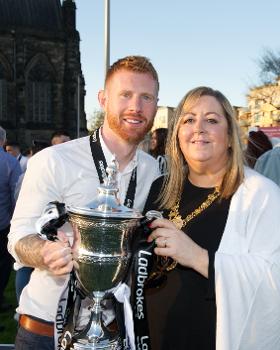 It has been an amazing turnaround since Jack Ross took over as manager halfway through last season and steered the club clear of relegation, when it looked like all was lost.
The sensational run the team went on last season has continued this year and from the first whistle it seemed the whole town believed this could be a special season.
It wasn't all plain sailing but it was all worth it to see the delight on the faces of the fans as the open top bus paraded through the town to celebrate the club becoming league champions.
Sport always has the potential to unite people and the buzz around the town on Saturday certainly showcased this to be true.
I think there will be a few publicans across Paisley hoping for more St Mirren success in the years to come!
I was delighted to be able to pass on my congratulations to the Chief Executive Tony Fitzpatrick, the Chairman Gordon Scott, Jack Ross, his players and staff, and all the fans who continue to follow their team - in bad times and the good.
Hopefully next season will be just as successful as I hear Tony has aims of the reaching the top half at least - no pressure Jack!
We will celebrate the club's achievements further with a civic reception in the near future but we'll give the players and staff a little time to recover from their exertions first!
Lorraine.
Published 27 April 2018