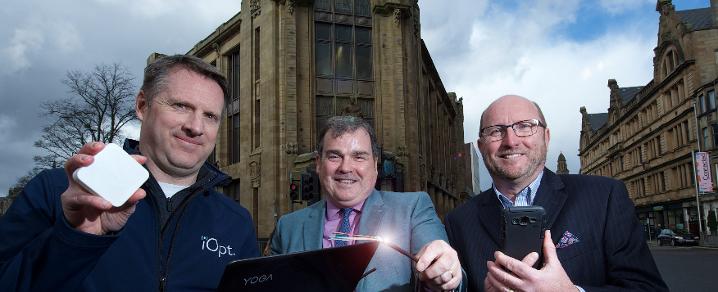 Digital infrastructure plans to connect Renfrewshire
Renfrewshire Council is investing £2million to stimulate economic growth across the area through provision of an ultrafast fibre network for public buildings and communities.
The Council budget commitment will further boost Renfrewshire's digital connectivity as it rolls out a public WiFi network across town centres in Johnstone, Paisley and Renfrew.
The investment aims to provide a full fibre infrastructure with unlimited bandwidth and Gigabit speed connectivity to key public buildings, schools and local communities.
Renfrewshire Council will now apply for additional funding from the UK Government Department for Digital, Culture, Media and Sport's (DCMS) Challenge Fund under the Local Full Fibre Networks (LFFN) Programme.
The Challenge Fund is aimed at helping local areas to stimulate economic growth by delivering the fastest and most reliable digital communications network available.
DCMS will release a total of £200million funding to local public bodies in waves, with the Council planning on applying for the third wave later this year.
Council Leader Iain Nicolson said: "The Council has a vision for a digital Renfrewshire and investment in this area will return major social and economic benefits.
"If successful in our bid to DCMS, we will secure a further £5-7 million investment to enable the best available internet connections to key public buildings and businesses.
"This in turn will lead to telecommunications companies creating additional points of connection and access networks available to additional local premises, which will be hugely beneficial to Renfrewshire's education, economy and social infrastructure.
"World class connectivity is vital to people at work, in education and in the community as a whole. It's a way of ensuring Renfrewshire's future competitiveness in the global market and increasing our ability to attract investment.
"Ultimately it will ensure Renfrewshire is at the forefront of being an attractive, modern and inclusive area for learning, living and investing."
Renfrewshire will also benefit from the Scottish Government's recently announced £600million digital infrastructure investment across Scotland.
This investment will enable the Government to meet its commitment to provide every house and business premise in Scotland with access to superfast broadband by 2021, making Scotland a world-class digital nation.
Photo (left to right): Dane Ralston (CEO, iOpt); Councillor Iain Nicolson (Renfrewshire Council Leader); Joe Bisland (Owner, Paisley White Cart Co.)
Published on 3 April 2018