Pupils lend a helping hand to galvanise Gallowhill
Pupils from Gallowhill Primary and St Catherine's Primary School were the latest to lend their support to the Team Up to Clean Up campaign as they tackled streets in Gallowhill.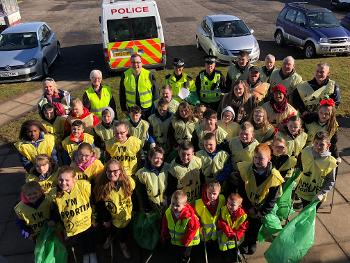 Joining local community members, the pupils tackled litter in surrounding area of Gallowhill Community Centre to help improve the local environment and encourage people to think again before dropping litter.
More than 35 bags of litter were collected in just over an hour in an event which saw more than 50 people take part to make a difference to Gallowhill.
Renfrewshire Community Safety Officers (Wardens Service) and the Rapid Response Team took part in the event offering support and guidance, and the StreetScene team assisted by removing the collected litter bags, leaving Gallowhill cleaner and more attractive.
Councillor Cathy McEwan, Convener of Renfrewshire Council's Infrastructure, Land and Environment Policy Board, took part in the event and said: "I'm delighted to see another fantastic turnout to one of our clean ups as the community continues to get behind the Team Up to Clean Up campaign.
"Through working together, we are making a real difference to the local environment across Renfrewshire with more than 60 clean ups now having taken place since the campaign started - alongside the increased gully cleaning, road sweeping and litter picking by the council.
"Having spoken to residents in Gallowhill, it was clear there were areas they had identified as in need of attention and we have been able to address those today - with the help of very enthusiastic school pupils.
"The next generation are the ones who will normalise the behaviour of not dropping litter, encourage the older generations to follow their lead and I'm delighted that they are recognising that littering is wrong and are taking pride in their local area."
The clean up takes place in advance of the Renfrewshire Big Spring Clean which takes place from 20-22 April and aims to host a litter pick in every community in Renfrewshire.
Communities are being encouraged to host their own litter pick and they will be provided with all the equipment needed to make the event a success, or sign up to join an already established one in their area.
Potential volunteers should get in touch via wardens.es@renfrewshire.gov.uk or phone 0300 300 1375 for information and advice on how to get started.
For more information on the Big Spring Clean or the Team Up to Clean Up campaign visit the pages attached to this page.
Published 29 March 2018.