Supporting the quest for a cure
MND Scotland is a charity that is extremely close to my heart following the loss of my mum to the illness in 2011, which is why they are my chosen charity to support as Provost throughout 2018.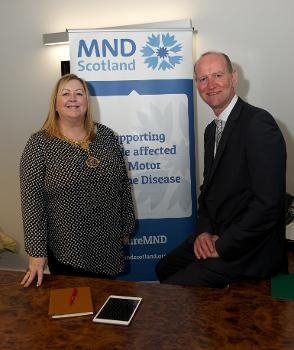 When my mum was first diagnosed in 2009, it came to my attention that there wasn't an outlet for families within Renfrewshire to seek support from so I decided, along with my family, to set up a support group for those affected by motor neurone disease - either directly or indirectly.
While other commitments meant our local group was unable to continue, there are still other support mechanisms available through MND Scotland which continues to benefit sufferers and their families and the illness continues to be a cause that I am passionate about as they maintain the search for a cure.
MND gradually destroys the body's motor nerves and can cause impaired speech, eating and drinking difficulties and paralysis.
As it progresses, the motor neurones are gradually damaged, blocking the stimulating signals from the brain reaching the muscles, causing them to weaken.
I will be support MND Scotland all this year and I want you to support them with me!
Whether this is taking part in a fun run, a bungee jump, the kilt walk or even as far as scaling the Great Wall of China with them in September 2019, every penny earned will help support their research into the disease and make a difference to future generations.
If challenges aren't your thing, you can also support their social media campaigns, join their support groups, and volunteer to help out at events, become a member or share your story of motor neurone disease.
Any way you can offer your support will be greatly appreciated and I'll be happy to help you in any way I can.
Find out more at www.mndscotland.org.uk.
Lorraine.